This is the
third time
we've played this game. Rules are simple. Below is a list of well-known characters from popular culture. The question is: Where did they start? For example, the Cisco Kid began life in a short story written by O. Henry, of all people.
On the side in a white box you will see a list of possible origins. Don't assume there is one-for-one match (one character from radio, one from opera, etc.)
Answers at the bottom of the page. Good luck!
Paul Bunyan
Charlie Chan

Jiminy Cricket
Robinson Crusoe

Green Hornet
Detective John Munch
Horace Rumpole
Karen Sisco
Staggerlee
Honey West
Ready? Okay, here are the answers:
Paul Bunyan. Folklore. Sure, the giant logger started in oral legends, but as is usually the case with folklore, it's complicated. The earliest known written appearance is a one-line reference in a newspaper in 1893, a joke that would make no sense to anyone unfamiliar with "Paul Bunion."
He was apparently only about eight feet tall until 1916 when William B. Laughead used him in an advertising pamphlet. That's when he grew into a man who could lift mountains and make lakes with his footprints.
Because so many of the familiar stories show up late some scholars call it "fakelore," but James Stevens, who wrote a book about our big boy in 1925 argued that making up new tales based on the basic framework is exactly how the stories worked in the lumber camps.
Charlie Chan. Real Life. Sort of. Yes, Charlie Chan made his first appearance in Earl Derr Biggers' mystery novel The House Without A Key (1925), but he acknowledged that the character was inspired by Chang Apana, a famous member of the Honolulu police force. Unlike his fictional counterpart, Apana was not permitted to work on cases involving White people. Biggers and Apana met in 1928, by the way.
Chan is considered an offensive stereotype today - less for the novels than for the countless movies starring White men in the part - so it is easy to forget that Biggers was trying to combat the "sinister Oriental" cliche represented by Fu Manchu, by creating a decent and brilliant Chinese policeman.

Jiminy Cricket. Movie. The living puppet began in The Adventures of Pinocchio, an Italian children's book by Carlo Collodi, published in 1883. In that book the Fairy with Turquoise Hair gave him a talking cricket as a conscience, which the little wooden brat promptly murdered. So the animal appeared as a ghost throughout the rest of the book.
As part of the Disneyfication of the book, in the cartoon the insect turned into Jiminy Cricket, complete with top hat and umbrella. (The name, of course, already existed as a modified swear word.) Jiminy was voiced by Clifford Edwards, who got to sing "When You Wish Upon A Star," which became the Disney corporation's unofficial anthem. Until then Edwards was better known as Ukulele Ike, a very popular crooner in the early days of the phonograph. Among other things, he did the first recording of "Singing in the Rain," and had a hit with "California, Here I Come."
In a most un-Disneylike twist, Ukulele Ike had also recorded some
hokum
- which is to say double entendre songs that were only sold to adults "under the counter."
Robinson Crusoe. Novel. Daniel Defoe's immortal novel about a desert island castaway is often linked to the ordeal of Alexander Selkirk, who spent four years on an island off the coast of Chile after being dumped there by his captain.
But Andrew Lambert, in his book Crusoe's Island, argues that the book is a mash-up of the adventures of several maroonees, if that's a word. Defoe never confirmed or denied Selkirk's influence.
Green Hornet.
Radio.
The masked hero in the green fedora (secret identity of newspaper publisher Britt Reid) came to life on Detroit radio station WXYZ in 1938, as did his assistant and chauffeur, Kato.
I included him here largely because many years ago the NPR quiz show Says You did a round of questions about comic strips, and somehow included one about the olive wasp: "What was the name of the Green Hornet's grand-uncle's horse?"
I knew the answer. But I was irritated because GH didn't start in a strip or even a comic book, and you think a radio show would know he came from radio show. (And by the way, that is a clue to the answer to that question.)
Detective John Munch.
Real Life.
Detective (later Sergeant) John Munch entered the world through the wonderful TV series
Homicide: Life on the Street,
played
by Richard Belzer. When that show ended Munch left Baltimore Homicide and moved to NYPD for
Law and Order: Special Victims Unit.
Believe it or not the cynical conspiracy-minded cop also made guest appearnces on
The X Files, Arrested Development, The Wire, 30 Rock,
and a handful of other TV series.
So why do I say he started in real life? The TV series
Homicide
was based on David Simon' award-winning nonfiction book
Homicide: A Year on the Killing Streets.
Munch is clearly (and admittedly) inspired by Detective Sergeant Jay Landsman.
Here is how that book begins:
Pulling one hand from the warmth of a pocket, Jay Landsman squats down to grab the dead man's chin, pushing the head to one side until the wound becomes visible as a small, ovate hole, oozing red and white.
"Here's your problem," he said. "He's got a slow leak."
"A leak?" says Pellegrini, picking up on it.
"A slow one."
"You can fix those."
"Sure you can," Landsman agrees. "They got these home repair kits now..."
Inevitably Jay Landsman did some acting, in The Corner and The Wire.
Horace Rumpole.
Television.
The defender of the British criminal classes began in TV, although he was later seen in novels, short stories, and radio. John Mortimer, himself a barrister, claimed he created Rumpole specifically to fund his retirement.
In 1968 Mortimer wrote a TV movie called "Infidelity Took Place," about a barrister who is a sort of ur-Rumpole. A few years later he wrote a play about Horace Rumbold, but the name was changed because there really was a lawyer by that name. (Of course, the name is a pun. Think of a Cockney saying
Rump 'Ole.)
While Rumpole was conceived as a small-timer who lost most of his cases, as the show went through seven seasons he became more and more successful. And as Mortimer looked farther afield for interesting plots, Rumpole found himself working in a military court, an African court (with the death penalty on the table), an ecclesiastical court (bizarre for an atheist), and, hardest to believe, conducting a prosecution (inevitably he proved the defendant innocent).
Karen Sisco. Short Story. Elmore Leonard would sometimes try out a character in a story before trusting her with a whole novel. Deputy Marshal Sisco began life in a 1996 tale, "Karen Makes Out."

She then starred in the novel Out of Sight, made into a movie in which she was played by Jennifer Lopez. That led to the short lived TV series Karen Sisco, starring Carla Gugino. And that was the end of the character. Or was it?
In the second season of the TV show Justified, a much more successful adaptation of Leonard's work, Carla Gugino reappears as the Assistant Director of the Marshal Service, Karen Goodall. It is mentioned that she had married and divorced. Was Sisco her maiden name?
Staggerlee. Real life. Alias Stackolee, Stagger Lee, Stagolee, etc. The song (and its infinite variants) is based on the murder of Billy Lyons, which took place in St. Louis, Missouri in 1895. Curiously, I have never heard a version that mentioned that the killing happened on Christmas, making this one of the least likely holiday carols since "Grandma Got Run Over By A Reindeer." The murderer was Lee Shelton and there are many explanations for his nickname.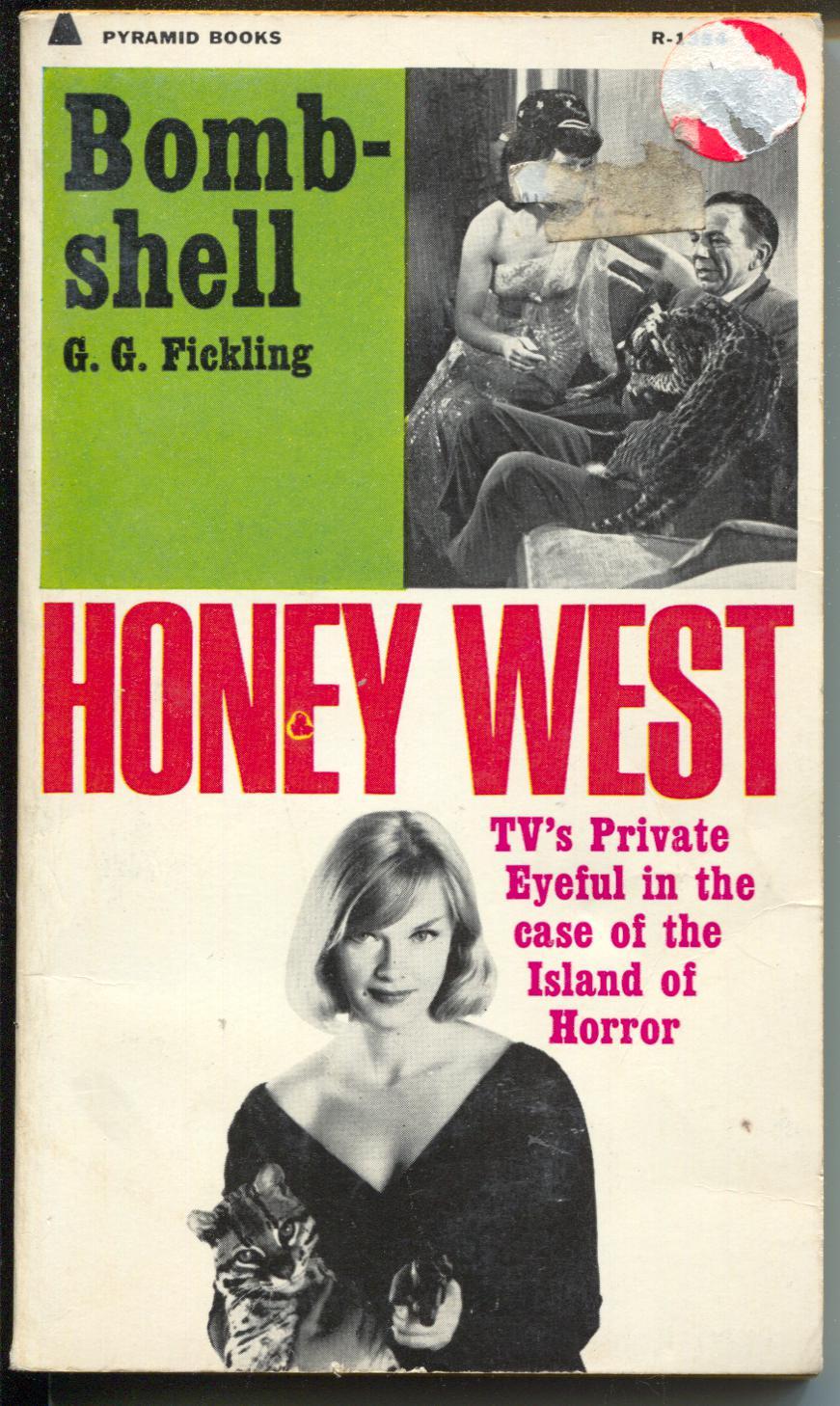 Lyons and Shelton were both criminals, possibly business rivals. Billy Lyons stole Shelton's stetson hat, Shelton got his gun, and the rest was musical history. Most versions of the song I am familiar with show our hero being executed and end with him telling the Devil "I'll rule Hell by myself." He was a bad man, that Staggerlee. But in reality, Shelton spent twelve years in prison, got paroled, and returned to stir one year later, and died there.
Honey West. Novel. One of the first female private eyes, she appeared in 11 novels written by G.G. Fickling (actually Forrest E. Fickling and his wife Gloria. She debuted in This Girl For Hire in 1957.
In 1965 Anne Francis guest-starred as Ms. West in an episode of Burke's Law, and that led to a TV series of her own, which lasted for 30 episodes.