In a column I posted at
SleuthSayers
several months ago, called "
Crime (and Other) Scenes
," I listed a hundred or so of my favorite movie moments, and the first category was my pick for the ten "best opening sequences." What I didn't mention, there, was that the
music
accompanying the opening credits can be as important as the images. Examples:
The Magnificent Seven
,
Star Wars
,
The Big Country
,
Top Gun
,
The Pink Panther
,
A Fistful of Dollars
,
Superman
, and many others. And while that opening music piece often has the same title as the movie, like "Jaws Theme," "Goldfinger," "The Great Escape March," "Theme From A Summer Place," etc., sometimes the director uses a song with its own name, and occasionally one that wasn't originally written for the film.
Which brings us to today's post, and my challenge to you. Can you name the movies whose opening credits used the following fifty pieces of music? The first half are fairly easy; the rest of them, not so much.
(Warning: No Googling allowed. The Shadow knows.)
Here are the songs. Their movies are included below. Good luck!
1. "The Sound of Silence" -- Simon and Garfunkel
2. "Stayin' Alive" -- The Bee Gees
3. "Up Where We Belong" -- Joe Cocker and Jennifer Warnes
4. "Gonna Fly Now" -- Bill Conti
5. "Suicide Is Painless" -- Johnny Mandel
6. "When You Wish Upon a Star" -- Cliff Edwards
7. "The James Bond Theme" -- John Barry
8. "Born to Be Wild" -- Steppenwolf
9. "Everybody's Talkin'" -- Harry Nilsson
10. "Do Not Forsake Me, O My Darlin'" -- Tex Ritter
11. "The Circle of Life" -- Elton John
12. "The Windmills of Your Mind" -- Michel Legrand
13. "Nobody Does It Better" -- Carly Simon
14. "The Deadwood Stage" -- Ray Heindorf
15. "One Tin Soldier" -- Coven
16. "Holiday Road" -- Lindsey Buckingham
17. "All By Myself" -- Celine Dion
18. "Moon River" -- Henry Mancini
19. "Little Green Bag" -- The George Baker Selection
20. "Also Sprach Zarathustra" -- Richard Strauss
21. "The Rainbow Connection" -- Kermit the Frog
22. "All-Time High" -- Rita Coolidge
23. "You've Got a Friend in Me" -- Randy Newman
24. "Seventy-Six Trombones" -- Ray Heindorf
25. "I Heard It Through the Grapevine" -- Marvin Gaye
26. "The End" -- The Doors
27. "As Time Goes By" -- Jimmy Durante
28. "I Can See Clearly Now" -- Johnny Nash
29. "Way Out There" -- Carter Burwell
30. "Misirlou" -- Dick Dale and the Del-Tones
31. "Come Softly to Me" -- The Fleetwoods
32. "Best of My Love" -- The Emotions
33. "The Times They Are A-Changing" -- Bob Dylan
34. "Rock Around the Clock" -- Buddy Holly
35. "Hound Dog" -- Elvis Presley
36. "What'll I Do?" -- William Atherton
37. "Tomorrow Is the Song I Sing" -- Richard Gillis
38. "Wish Me a Rainbow" -- Gunter Kallman Chorus
39. "I'm All Right" -- Kenny Loggins
40. "Sixteen Tons" -- Eric Burdon
41. "The Man Comes Around" -- Johnny Cash
42. "Across 110th Street" -- Bobby Womack
43. "For What It's Worth" -- Buffalo Springfield
44. "The Heat Is On" -- Glenn Frey
45. "The Immigrant Song" -- Led Zeppelin
46. "The Puppy Song" -- Harry Nilsson
47. "Summer in the City" -- Joe Cocker
48. "Dies Irae" -- Renny Harlin
49. "Gimme Shelter" -- The Rolling Stones
50. "It Had to Be You" -- Harry Connick, Jr.
Okay, that's it. Please put your pencils down and step away from your desks.
Answers:
1.
The Graduate
2.
Saturday Night Fever
3.
An Officer and a Gentleman
4.
Rocky
5.
M*A*S*H
6.
Pinocchio
7.
Dr. No
8.
Easy Rider
9.
Midnight Cowboy
10.
High Noon
11.
The Lion King
12.
The Thomas Crown Affair
(1968 version)
13.
The Spy Who Loved Me
14.
Calamity Jane
15.
Billy Jack
16.
National Lampoon's Vacation
17.
Bridget Jones' Diary
18.
Breakfast at Tiffany's
19.
Reservoir Dogs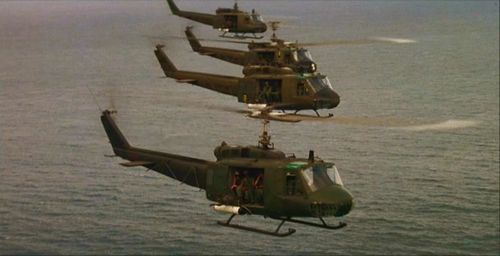 20.
2001
21.
The Muppet Movie
22.
Octopussy
23.
Toy Story
24.
The Music Man
25.
The Big Chill
26.
Apocalypse Now
27.
Sleepless in Seattle
28.
Grosse Point Blank
29.
Raising Arizona
30.
Pulp Fiction
31.
Crossing Delancey
32.
Boogie Nights
33.
Watchmen
34.
Blackboard Jungle
(and, later,
American Graffiti
)
35.
Indiana Jones and the Kingdom of the Crystal Skull
36.
The Great Gatsby
(1974 version)
37.
The Ballad of Cable Hogue
38.
This Property Is Condemned
39.
Caddyshack
40.
Joe Versus the Volcano
41.
Dawn of the Dead
42.
Jackie Brown
43.
Full Metal Jacket
(and, later,
Lord of War
)
44.
Beverly Hills Cop
45.
The Girl With the Dragon Tattoo
46.
You've Got Mail
47.
Die Hard With a Vengeance
48.
The Shining
49.
The Departed
50.
When Harry Met Sally
Please grade your papers. And remember what happened to #6 when he didn't tell the truth.
Here's the deal. If you failed to answer any of the questions correctly, you need to get out more. My mother's almost 91, she probably hasn't watched an entire movie since
The Sound of Music
, and I think even she could've answered one or two. If you got 10 correct, that's pretty good, but you're still not up where you belong. If you got 20 right, I'm impressed. (All I had to do was pose the questions--I'd hate to see how few I could've answered without the cheat-sheet.) A score of 30 correct is excellent in anybody's book, and if you got 40 right, please send me your email address so I can get some movie recommendations. And if you correctly answered all 50, you are a certified, card-carrying cinema fanatic, and I'm seriously worried about you. To paraphrase the Soup Nazi on
Seinfeld
, no more Netflix for you, one year! Get thee instead to a psychiatric ward.
A final question: Can you think of other opening songs for the list? And how about songs that play over the
ending
credits--I didn't even get into those. Or the openings for TV shows. ("Those Were the Days," "Where Everybody Knows Your Name," "Movin' On Up," "Runaway," "Harlem Nocturne," etc.) Quizzes for another day, maybe.
This kind of discussion makes me want to pop something like
Escape From New York
into the DVD player, put on my wireless headphones, crank up the volume, prop up my feet, and escape from more than just New York. Love that movie music.
No sounds of silence for me.