"All the leaves are brown, and the sky is grey.
I've been for a walk on a winter's day.
I'd be safe and warm if I lived in L.A.
California dreamin' on such a winter's day..."
The Mamas and the Papas
Well, maybe not
safe
, and maybe not warm: a rainy California winter day can soak you to the bone, and as for safety, well, everyone has their own definition. Some of the scariest moments of my life happened in California, and a few of the best. But safety isn't always what you really want. And sometimes I do wax nostalgic for the California of my youth. The weather, the beaches, the surfers, the food (avocados everywhere), and the mix. Every kind of music, architecture, food, neighborhood, ethnic / religious / racial / sexual type. Juicy. But cool with it. You can blend in, you can hang out, you can just watch.
And there's a lot to watch in California. From a woman grocery shopping in a bathing suit and high heels - in 1960 - to Julius Caesar XII in full toga, from the guy who used to drive around in a military tank to the DeLorean contingent, to people riding around in stretch limos, picking up hitchhikers to ask if they've heard their latest song on the radio. (Which literally happened to me.) Or meet up with some random person and end up in a three-day poker game in the Hills. (Which literally happened to me. One of the participants gave me a guitar.) Or live on the cheap in a broken-down brick hotel, with hallways from hell, and - (but more on the Blackburn later). California, a place of empty afternoons, sun-kissed dread, a sense of a past and future being lost... (but more from Jim Gavin later)
This fall, I watched Lodge 49 on AMC, my new favorite show. If you missed it, go to On Demand and catch up. From the first episode, when ex-surfer Dud (played by a pitch-perfect Wyatt Russell), limping (a snake bit his foot) around Long Beach, finds the magic ring that leads him to Lodge 49 of the Ancient and Benevolent Order of the Lynx, I was
in
.
From left, Ernie, sitting, Blaise standing, Dud, sitting,
and, of course, the corpse.
For one thing, the characters are great:
Liz (Sonya Cassidy), Dud's sister and polar opposite, works as Hooters-style waitress even thought she's much smarter than that. By a quirk and a jerk, she gets into one of those boot-camp-style executive try-outs that you hear about but never get in. And ends up making the final cut, to her own (and everyone else's) amazement. Even better, when she finally gets a chance to talk to Chief Executive Janet, who really likes her, Liz throws herself off the executive yacht. I like people who know a cage when they see one, and run like hell. (Don't worry - she makes it to shore.)
Blaise (David Pasquesi), resident philosopher and alchemist, bartender, pot-seller, and apothecary dreams of finding the One True Lodge.
Ernie (Brent Jennings), Knight to Dud's Squire, a perpetually exasperated plumbing supplies salesman working for the perpetually exasperating Brian Doyle-Murray. Ernie is looking for the really
big
score via the Captain (Bruce Campbell of
Bubba Ho-Tep)
who, when finally found, frolicking in a blow-up wading pool, is a con being conned while conning other cons -
so
California.
Liz, Dud, and Ernie
And Dud, who glues all of these and more together. He's a lot more than an ex-surfer with a crippled foot. He's game for anything. He is, according to Blaise, someone who knows what's going on. He is, according to Larry, the Leader of the Lodge, "part of the True Lodge. He's very special." Of course, Larry (Kenneth Welsh) appears to be crazy as a loon, and it soon turns out that he has pretty much ruined the Lodge's finances by living off the Lodge and spending a vast sum on the True Scrolls which have since been lost. But what's a little embezzlement when you're trying to save the Sacred Scrolls? Meanwhile, Dud might be saving Ernie's exasperated, tired, worn-out-with-hoping soul. And be turning him into a true Knight again. And vice versa.
Meanwhile, there's a live seal that shows up every time something strange is about to happen.
The occasional hallucination (?) of dragons on the part of almost everyone.
The sanctum sanctorum turns out to have an even more sanctum sanctorum with a resident reliquam corpus.
Plus Jim Gavin, its creator, truly captures the feeling of California: "Years and years of reading, combined with years and years of working dead end jobs. I wanted to capture the SoCal landscape that I know and love — freeways, strip malls, burger joints — and infuse it with a sense of grandeur and mystery." (
LALoyolan
)
It works because California is all extremes - it's a state where Pat Brown, Ronald Reagan, Arnold Schwarzenegger and Jerry Brown have all been governors. There are (or were) cults, communes, branches, insurance salesmen and con men everywhere. There are just as many bogus land developers in California as Florida, it's just that they're better surfers. Sometimes. With better music in the background. Southern California and Northern California have almost nothing in common, and San Francisco is the equivalent of an Italian city state.
And there's the entertainment industry, which looms over everything like the Catholic Church in Italy. It's why all the beauty pageant / talent show / body builder contest winners go to California, because they know they've got a shot. And then they run into each other and every other beauty pageant / talent show / body builder contest winner from the last 40 years, and they have to figure out how to stand out. And make a living. Porn, physical trainers, child minders, pool boys, escort services, waitstaff, and clerks, are mostly made up of former winners, terrified of becoming losers, willing to do anything to crack into show business and become a winner again. Often beginning - and, sadly, ending - with plastic surgery. Since everyone tries to go to the best plastic surgeons, the
same
best plastic surgeons, sooner or later everyone gets The Look: whether perky blond(e)s, sharp brunettes, feisty redheads, strong-jawed military, girl/boy next door,
Number 12 Looks Just Like You
.
Which is why the most interesting people in L.A. are all the
other
residents: from the somewhat normal people which keep everything going to the downright crazy people, who all came out because, well, anything can happen, and while you're waiting, there's surfing.
Which brings us to the old Blackburn Hotel, which probably got torn down years ago, but was LA's version of the Chelsea Hotel in NYC, one of the few cheap, cheap, cheap places in a major city. Because Los Angeles, like New York City, is a Third World country, where the rich and famous hang out cheek by jowl with the street people. Where you can go from homeless to famous in two degrees of separation. Or less. Where anyone can end up as a star, or at least in a movie. Hell, I woke up one morning at the Blackburn, and came downstairs to find people actually shooting a scene in the lobby. Cables everywhere, and me with a hangover.
Anyway, I fell in love
Lodge 49
: Thankfully it's been renewed for Season 2, so go binge-watch it on AMC On Demand, and wait, with great anticipation, for what happens as Ernie heads to Mexico with "El Confidente" (Cheech Marin) to find the Sacred Scrolls. And maybe find out how the
reliquiam corpus
got dead. And how can you get from Long Beach Lodge 49 to London Central Lodge so quickly?
Meanwhile, enjoy Season 1. Like California, like life, it's episodic and irrational, but with an underlying rhythm. Full of hints and glimpses of a deeper meaning, and very strong on the universal need for a quest. There are Arthurian legends and old mythology (is Dud a young Achilles, a young Fisher King, or simply Adam? Or are he and his sister really Apollo and Artemis?). There's alchemy, magic, hope and dragons. And a lot of quietly wonderful dialog.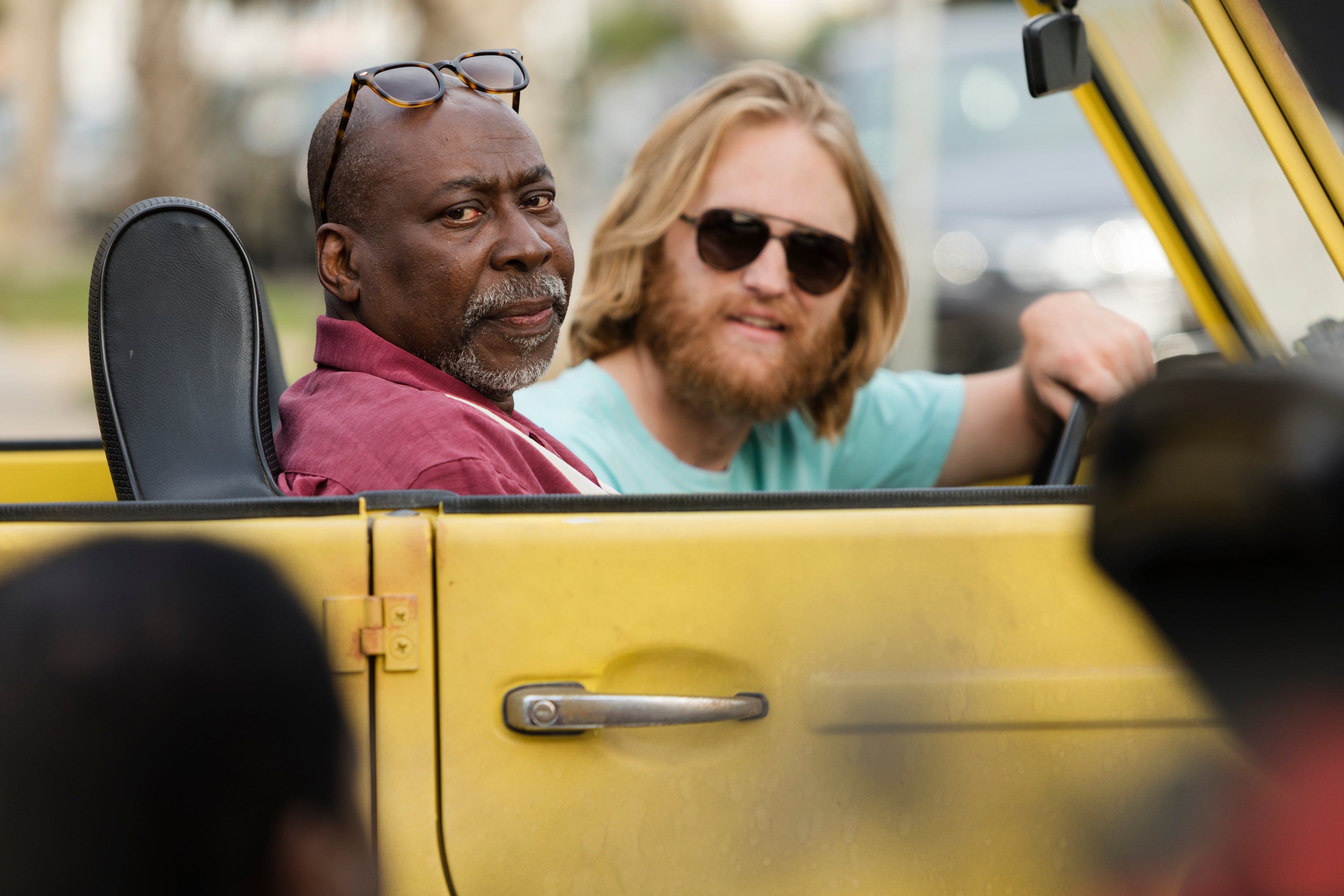 "We both have a background in residential hydronics."
"What's the use of living forever if you're all alone on a Sunday?"
"It's a basic feature of capitalism: You can't get loose, even on weekends."
"It was perfect, but I didn't realize it was perfect until later."
"People always go looking for unicorns when we've got rhinos."
"Signs and symbols, Ernie."