You may remember that my last piece here was about the importance of empathy as illustrated by two very different books about intelligence work: John Le

Carré

's Tinker Tailor Soldier Spy, and Nicholas Rankin's Masters of Deception. Today I want to go back to those books to discuss a different topic: language.
Le Carr

é

is renowned for his plotting and characters but it is his use of words that dazzles me the most. He invented a vocabulary of spying, most of it in Tinker Tailor, which is both memorable and believable.
When TTSS was adapted for TV and appeared on PBS there was a full-page ad, sponsored by Mobil, I believe, promoting the show and explaining the vocabulary. Clearly someone thought the average viewer would be baffled by the jargon and give up even before they had a chance to be baffled by the plot.
The most famous example, of course, is mole, for a double agent, especially one who was working for Side A even before he dug his way into the ranks of Side B. Le Carr

é

says he borrowed it from Russian intelligence circles although it turns out Sir Francis Bacon used it in the 1600s. Le Carr

é says he had not read Bacon, and why should we doubt him?

. What is certain is that mole is part of everyday usage now.
Here are a few more of Le Carre's memorable coinings:
The Circus: MI-6 , so nicknamed for its (fictional) location in London at Cambridge Circus, but of course suggesting the chaos that often goes on there.
Lamplighters: The secret communication and dead letter people.
Breakage: People quitting the Circus.
Scalphunters: The dirty work crowd, killers, kidnappers, etc.
Joe: Any agent in the field. "I have to meet one of my joes."
Coat-trailing: Trying to convince the other side that you are a likely candidate to work for them.
Honey trap: An attractive person set to woo a spy with their physical charms.
But it isn't just terminology that makes Le Carr

é

's language so vivid. Let's take a couple of examples from a later book, Smiley's People. An old Russian wants to tell George Smiley that he has acquired three facts that might be used to destroy their deadly enemy Karla. But the coded message he gives is "I have three proofs against the Sandman." Sends a shiver down my spine.
A few pages later Smiley reflects on the fact that a spy in trouble immediately discards the most valuable thing he is carrying. But here is how that comes out:

"in the

spy

trade we aba

ndon first what we love the most." And that brings it to a whole different level, doesn't it?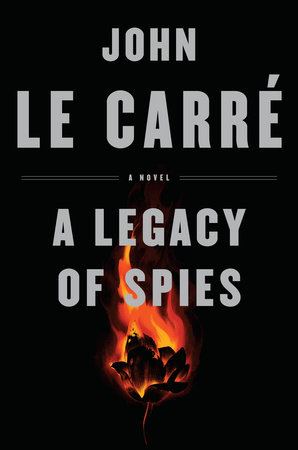 My favorite of Le Carre's non-Smiley books is A Perfect Spy. The protagonist of that one, Magnus Pym, is a double agent (this is not a spoiler) and he writes a confession to his son, although he certainly knows that the boy will never be allowed to read it. Discussing the years just after World War II, he writes, "
Vienna
was a divided city like Berlin or your father" For me, that's a real gut-punch.
What about the new le Carre novel, A Legacy of Spies? It's very good but only two bits of language leapt out for me. There is a safe house which Smiley named the Stables. If that strikes you as having a mythological reference, at least one character in the book agrees with you.
And in a flashback we see the old spy's protege Peter Guillam demanding an explanation of the dodgy operation they were involved in. Smiley tells him some of the story and then asks:
"Do you now have all the information you require?"
"I envy you."
Moving on to Rankin's book about deception in the wars. I was fascinated to learn that certain important and familiar words came from World War I. (Rankin notes that they did not appear in the famous eleventh edition of Encyclopedia Britannica, which appeared in 1911, but received major attention in the twelfth, after the war.)
Among the new words are propaganda and camouflage. Also, in the British empire the best shooters were those who could kill small, fast-moving marsh birds called snipes. And, of course, those shooters were called snipers.
I knew that tank, the word for heavily armored fighting vehicle, came from a bit of World War I deception - they're just spare petrol tanks! - but I had not realized that Ernest Swinton is credited with both the concept and the name. Swinton was also a writer; his much-imitated Defence of Duffer's Drift turns what could be a pedestrtian lesson in military strategy into a fascinating story.
And speaking of writers, the Director of Information for Britain during part of the war was John Buchan, author of The Thirty-nine Steps. Oh, and one more? During World War II, the assistant to the Head of Naval Intelligence had to be a real extrovert, a glad-hander who could play talent-spotter, make nice between competing agencies, and represent the office to the outside world. The job went to a fellow named Ian Fleming. Wonder whatever happened to him?