I was somewhat surprised to discover that this is my
tenth annual list
of the best short mysteries of the year, as determined by me. I will have to do something to celebrate that in a month or two. I should remind you that these reviews are taken from the longer weekly summaries I do at
Little Big Crimes.
This year was 16% worse than last, insert political joke here, based on my best-of list dropping from 18 to 15. Writers, was it you or was it me?
Speaking of writers, eleven were men, five women. (One story had two authors.) Two authors were British, one Canadian.
The big winner this year was
Alfred Hitchcock's Mystery Magazine,
with four stories. Three other sources supplied two each: Akashic Press's Noir Cities series,
Mystery Weekly Magazine,
and the anthology
Deadlines: A Tribute to William E. Wallace.
Three stories are historical, two are funny, and one has fantasy elements. Six have surprise endings. Remarkably, five of the authors are making repeat appearances. All right, let's dig down into the data.
Brookmyre, Chris, "The Last Siege of Bothwell Castle," in Bloody Scotland, edited by James Crawford, Pegasus, 2018.
There's a historical reenactment going on at Bothwell Castle in Scotland and the place is crowded with tourists. Some very bad people take advantage of the confusion, and soon they are taking hostages and making demands.
The cops arrive but the hostages's best chance for rescue might be Sanny and Sid, two young sneak thieves who were scooped up with the tourists.
Brosky, Ken. "The Cold Hunt," Mystery Weekly Magazine, August 2018.
Roxy is a young American biologist, studying tigers in Siberia. She and her mentor, Dr. Siddig, have been called to investigation what appears to be a killing by a big cat. The evidence of footprints and corpse show that the tiger had a big meal of the flesh of a local man. But the evidence does not prove that the man was alive when the tiger arrived.
The villagers are ready to hunt and kill the beast. Can the scientists prove it is innocent of the killing - if indeed it is?
Day, Russell, "The Icing on the Cake," in

Noirville, Fahrenheit Press, 2018.
Gareth is a gofer for Mr. Driscoll, a British crime boss. Today his mission is to drive a Jaguar dow to a prison where the car's owner, Harry the Spider Linton, is being released after seven years for robbing a post office. It turns out that Harry thinks he owes his incarceration to the stupidity of Mr. Driscoll.
Harry's rage is so feverish that it seems like the trip may end prematurely. Gareth might be in danger. What will happen if/when Harry arrives at his old mate's mansion, and encounters the man he sees as the cause of his lost years?
Greenaway, R.M. "The Threshold," in Vancouver Noir, edited by Sam Wiebe, Akashic Press, 2018.
The publisher gave me a free copy of this book.
Blaine is a photographer. Perhaps a bit obsessive about it. And one morning, just at sunrise, he's out snapping pictures at the Vancouver waterfront and he find a very fresh corpse. Of course he knows he should call 911, but the lighting is perfect for capturing the corpse, and how long will that last? Surely it won't hurt if he just changes lenses and takes a couple of artful frames...
And then the body twitches, and things get complicated.
Hallman, Tom, Jr. "Kindness," in Mystery Weekly Magazine, April 2018.
Phil's family moved to an inner city neighborhood that is gentrifying. Great house, nice neighbors. But then the old man across the street dies and his house is inherited by a jerk who parties all night The jerk is a huge guy who "reminded me of one of those men featured on cable shows taking viewers inside America's roughest prisons."
When this guy takes an unhealthy interest in Phil's teenage daughter things seem really desperate. But then Phil meets Deke, a member of a criminal motorcycle gang, and helps him with a problem... Twice I thought I knew where this story was headed. Twice I was wrong.
Lang, Preston, "Top Ten Vacation Selfies of Youtube Stars," in Deadlines: A Tribute to William E. Wallace, edited by Chris Rhatigan and Ron Earl Phillips, Shotgun Honey, 2018.
Michael Roth used to be a reporter. Or maybe we should say he is currently a reporter without a job, struggling to survive as a freelancer, writing Internet clickbait. (See the title of this story.)
He gets a call from somebody named Brack who used to be a hitman. Would he like to meet and talk about Brack's illustrious career? He would. But Brack, as it turns out, has another, more dangerous offer to make...
Law, Janice, "The Crucial Game," in Alfred Hitchcock Mystery Magazine, January-February 2018.
This is the
fourth appearance
on my annual best-of list by my friend and fellow SleuthSayer. No one else has made it to the top of the heap more than three times, so far.
Since his wife died Frank has been lonely and somewhat obsessed with hockey. Walking through Manhattan he sees a "little makeshift stand offering sports CDs and DVDS..." The merchant is "thin, almost gaunt, and very dark so that his large eyes gleamed above the bold cheekbones and the wide, and to Frank's mind, somewhat predatory nose." Sounds a bit spooky? How about when he calls out: "I have what you need"?
Neville, Stuart, "Faith," in Blood Work: Remembering Gary Shulze: Once Upon A Crime, edited by Rick Ollerman, Down and Out Books, 2018.
The day I lost my belief was the same day Mrs. Garrick asked me to help kill her husband.
The narrator is an Irish clergyman, five years a widower. Mrs. Garrick's husband was brutally maimed in a terrorist attack. Our protagonist tries to comfort her and one thing leads to another.
Classic noir, right? But Neville has a surprise or two up his sleeve.
Page, Anita, "Isaac's Daughters," in Malice Domestic Presents: Murder Most Geographical, edited by Verena Rose, Rita Owen, and Shawn Reilly Simmons, Wildside Press, 2018.
This is Anita Page's
second appearance
on the winner's list.
The narrator is an old woman, relating how she came to America from Russia at the age of fourteen in 1911. The reason for the voyage is that her mother has just received a message that "your Isaac has taken up with a whore from Galicia."
They start out on the difficult voyage, and things happen. The family is divided between the father and narrator who you might describe as new-world rationalists, and the mother and sister who are subject to old-world superstitions, believing in demons and lucky charms. Which side, if either, will win?
Perks, Micah, "Treasure island," in Santa Cruz Noir, edited by Susie Bright, Akashic Press, 2018.
The publisher gave me a free copy of this book.
Mr. Nowicki is, he tells us, "a seventy-two-two-year-old retired middle school assistant principal who has lived in Grant Park for forty years." He is furious about what is happening in his neighborhood so he has gone to a website called Good Neighbor!(tm) to report what he sees.
And he has strong opinions about that. For example he has a problem with his neighbor who is (the internal quotation marks are his): "a 'writer' who 'works' from home. ('Writer' always takes morning tea on his porch in his pajamas and at five p.m., takes cocktail on porch, still in his pajamas. You've probably seen him on your way to and from actual work.)"
Pronzini, Bill and Barry N. Malzberg, "Night Walker," in Alfred Hitchcock's Mystery Magazine, March-April 2018.
This is Pronzini's
second appearance
on my annual Best-of bash.
Henry Boyd's life changed forever when a moment of his own carelessness destroyed his family. He hoped to be sent to prison but the courts thought otherwise. He can't face the thought of suicide so now he walks through the night, hoping some criminal will do to him what he lacks the courage to do to himself. But something else happens.
Richardson, Travis, "Plan Z," in Deadlines: A Tribute to William E. Wallace, edited by Chris Rhatigan and Ron Earl Phillips, Shotgun Honey, 2018.
This is a simple story of three guys who "decide to up their game from B&E and liquor stores." We don't learn much about them except what positions they played in Little League.
So, not a lot of character development. What the story has is a wonderful way of unwrapping the adventures of our luckless trio. Plan A is to rob a check-cashing joint. They throw that over for Plan B which is to rob an armored car that Uncle Arnie drives. But Arnie gets fired which leads to Plan C. When Arnie shows up drunk we move on to Plan D...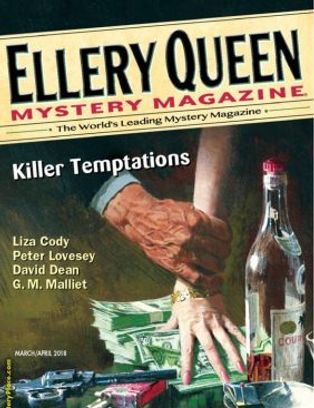 Rusch, Kristine Kathryn, "The Wedding Ring," in Ellery Queen's Mystery Magazine, March/April 2018.
Rusch is making her
third appearance
in Best-of Land.
Serena is a classics professor and after a bad breakup she goes to Las Vegas for what she calls her Liberation Vacation. There she meets the man of her dreams. Shortly after that they are married. Shortly after that he disappears, taking her cash, self-confidence, and much more.
One cop says about the crooks: "They're not in it for the money. They're in it to destroy their marks."
Serena replies. "They didn't destroy me... I'm right here. And I'm going to destroy them right back."

Rutter, Eric, "Hateful in the Eyes of God," Alfred Hitchcock's Mystery Magazine, July/August 2018.
This is Rutter's
second appearance
in my best-of lists.
It is London in the 1830s. John Alcorn is a freelance reporter, a "penny-a-liner." His specialty is the criminal courts because, then as now, scandal is always popular. He is in the gallery when Charles Stanbridge is brought into the courtroom. This fine, outstanding married gentleman has been accused of indecent assault, which is a reduced version of the charge of "the infamous crime," alias, homosexuality. That greater offense could get a man sentenced to exile or even death.
Alcorn offers to sell his story on the case to the defendant rather that to the press, a form of extortion which was perfectly legal. But when Stanbridge apparently kills himself the reporter feels guilt and tries to learn more about the case. And so he, and we, find out a good deal about the secret life of what we would call gay men, but what in this era were called sods or Mary Anns.
Thielman, Mark, "The Black Drop of Venus," in Alfred Hitchcock's Mystery Magazine, July/August 2018.
This is Thielman's
second appearance
here, both for historical mysteries that won the Black Orchid Novella Award.
It is 1769, deep in the South Pacific. Our narrator is Joseph Banks, chief naturalist on the
HMS
Endeavour,
which has been sent on a scientific investigation to observe the Transit of Venus. When one of Banks's assistants is found with his throat cut just as they arrive at Tahiti, Banks is ordered to investigate the crime by none other than Captain James Cook. He is handicapped by his lack of knowledge of navy ways and nautical vocabulary, but he brings back the facts which allow Cook to cleverly determine the identity of the murderer.