I hope you have all donned your tuxes and/or gowns, because I am about to announce the best short mystery stories of the year. Prepare to watch the winners sashaying down the red carpet and smirking at the paparazzi.
This is the
eighth year
I have conducted this ceremony. I regret to say 2016 was not as good as 2015 (insert political joke here), since the number of stories dropped from 14 to 13.
Seven authors were men, six female. The big winner was
Alfred Hitchcock's Mystery Magazine
with four stories.
Ellery Queen
scored three and
Crime Plus Music,
an anthology from Three Rooms Press nabbed two. Five stories are historic fiction. Three are (loosely speaking) comic.
The biggest surprise may be that there were no repeat offenders: none of these authors had made my best-of lists before. One SleuthSayer is included, as is one first story.
Addendum: I should have mentioned that slightly longer reviews of these stories can be found at my weekly review site, Little Big Crimes.
Okay. Start the show!
Barnes, Linda. "The Way They Do It In Boston," in Ellery Queen's Mystery Magazine, September/October 2016.
Veteran Drew wants to be a cop in Boston but it's hard to make the resident-for-a-year requirement when you are living in your car with your only friend, a beat-up ex-army dog.
So she's working night security on a tow service parking lot, down by the river. One night a crate of assault weapons washes up on the shore. Something bad is going on. Does it involve the lot? Can she survive long enough to find out?
Bastable, Mark. "Motive, Opportunity, Means," in The Thrill List, edited by Catherine Lea, Brakelight Press, 2016.
Congressman John Fuller left his wife for his secretary. Said wife did not take it well. Now she has plotted an elaborate revenge, and Fuller's future depends on the shrewdness and determination of an overworked cop named Pinski who just wants to spend some time with own wife.
If this description sounds a little sparse, you are right. I don't want to give away any of the secrets of this marvelous, convoluted plot.
Bracken, Michael. "Chase Your Dreams," in Alfred Hitchcock's Mystery Magazine, June 2016.
Picture a small town in Texas, one so set in its ways that the whites and blacks still use seperate cemeteries. Cody is a gay man, deep in the closet. His secret lover, Chase, on the other hand, was "leading one-man Gay Pride parades." When Chase disappears, Cody has to decide what is more important: finding out the truth, or staying safe?
Buck, Craig Faustus. "Blank Shot," in Black Coffee, edited by Andrew MacRae, Dark House Books, 2016.
1960, East Berlin. Our protagonist has been shot in the head, a grazing blow that erased most of his memory. The cops want to know what happened and the deadly secret police, the Stasi, are lurking on the sidelines, up to God knows what. Will our hero figure out who he is before the shooter realizes he is still alive and tries again?
Cajoleas, Jimmy. "The Lord of Madison County," in Mississippi Noir, edited by Tom Franklin, Akashic Press, 2016.
Teenage Douglas has come up with the perfect place to sell drugs: his church's youth group. Pastor Jerry loves his enthusiasm and has no clue about what's going on... or what Douglas is doing with his young daughter. What I love about this story is that is is full of classic noir characters, but they don't all follow the noir rules, and their choices may surprise you. Very nice piece of work.
McCormick, William Buron. "Voices in the Cistern," in Ellery Queen's Mystery Magazine, August 2016.
This is McCormick's second story about Quintus the Clever, a thief in the early days of the Roman empire. And Quintus is having a bad day.
It isn't enough that he is in a city under siege by the Roman's deadly Scythian enemies. No, he also has to deal with Vibius, a large, nasty, unscrupulous rogue. The brute has decided Quintus is the perfect co-conspirator to help him with a dangerous scheme. The last person involved was actually killed by, uh, Vibius. What could go wrong?
McDermid, Val. "The Long Black Veil," in Crime Plus Music, edited by Jim Fusilli, Three Rooms Press, 2016.
Jess lives with relatives because, a decade ago when she was four years old, her mother murdered her father. That's the official story, but it turns out the truth is a lot more complicated. "There are worse things to be in small-town America than the daughter of a murderess," says her caretaker. "So I hold my tongue and settle for silence."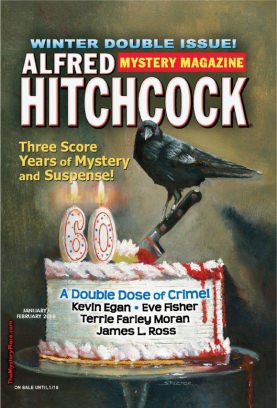 Moran, Terrie Farley. "Inquiry and Assistance," in Alfred Hitchcock's Mystery Magazine, January-February 2016.
A nice story in the P.I. vein by my friend Terrie Farley Moran. New York City, the Great Depression. Tommy Flood, unemployed bookkeeper is looking desperately for work, and surviving through family ties.
And speaking of family, he gets an invitation from Van Helden, the wealthy man who employs his cousin Kathleen. He has a dangerously wild daughter, and Van Helden has decided the solution is to find an attractive but tame gentleman to escort her safely to the risky sorts of establishments she enjoys. Tommy meets the daughter by pretending to be a private eye. And guess what? Turns out he's good at it...
Rogers, Cheryl. "The Ballad of Maggie Carson," in Ellery Queen's Mystery Magazine, May 2016.
A real
sui generis
tale. Maggie Carson, newly unmarried senior citizen, is racing through the Australian Never-Never with a lifeless body in her car. A retired police officer is on her trail. And why, in such circumstances, is she so cheerful?

Rogow, Roberta. "The Perfesser and the Kid," in Sherlock Holmes Mystery Magazine, issue 19, 2016.

At Nikola Tesla's funeral an aging politician decides to entertain the gathered reporters with the true story of the great inventor's first day in America. We know that Tesla was robbed on the ship and stepped onto dry land with four cents in his pocket. The official version says that he then met a man on the street with a broken machine and fixed it on the spot, thereby earning his first dollar on these shores. But our politician's version involves a pool hall, a gang of street toughs, and Tammany Hall.
Smith, Mark Haskell. "1968 Pelham Blue SG Jr." in Crime Plus Music, edited by Jim Fusilli, Three Rooms Press, 2016.
When was the last time you read a story written in first person
plural?
The narrator is
we,
the collective voice of an over-the-hill rock band. After a gig the band's equipment (including the titular guitar) is stolen but "we couldn't call the police because one of us was supposed to be home with an ankle monitor strapped to our leg." Hilarious.
Stevens, B.K. "The Last Blue Glass," in Alfred Hitchcock's Mystery Magazine, April 2016.
My fellow SleuthSayer B.K. Stevens has come up with a nice one. Cathy and Frank buy the titular set of six blue glasses as they are preparing for their first dinner party. They are a bit fragile and expensive but Frank loves them and Cathy tends to go along with what he wants, which turns out to be a piece of the problem in their marriage, a marriage we see falling to pieces like, well, a set of blue glasses.
Thielman, Mark. "A Meter of Murder," in Alfred Hitchcock's Mystery Magazine, July/August 2016.
In his first published story (!) Mark Thielman makes 1661 London come to life. King Charles II had just taken the throne and anyone who had been on the Roundhead side in the Civil War, or sided with Cromwell after, had to keep one eye over his shoulder, expecting arrest or worse.
One of those was the blind poet John Milton, not yet the creator of
Paradise Lost.
The narrator of the novella is Milton's younger friend, Andrew Marvell, who was both a member of Parliament and a
poet.
When a royalist member of Parliament is killed in circumstances that suggest a possible political motive big trouble is afoot, unless Milton can get to the bottom of it.