This is my fourteenth annual list of the best short mysteries of the year. It is selected from my best-of-the-week choices at Little Big Crimes. If you cite this list please refer to it as "Robert Lopresti's 'Best of the Year' list at SleuthSayers," or words to that effect, not as the SleuthSayers' 'Best of the Year' list. Hard as it is to believe, some of the other twenty-odd bloggers here may have opinions of their own.
Fifteen stories made the list this year, one fewer than 2021. Nine are by men, six by women. Two are by fellow SleuthSayers. Six authors have appeared here before.
Alfred Hitchcock's Mystery Magazine provided three stories. Akashic Press, Ellery Queen's Mystery magazine, and the Mystery Writers of America anthology each had two.

Six of the stories are historicals, three have fantasy elements, and two are funny. Okay, enough number-crunching. Let's start tearing open envelopes.

Barnsley, Pam. "Street Versus the Stalker," in Ellery Queen's Mystery Magazine, November/December 2022.
Gina is an inner-city teacher and a genuinely nice person, the kind who makes friends easily with people you and I might cross the street to avoid. When some of these folks notice a van following her in a suspicious manner they react, much like antibodies to an infection. But they are busy and not the best organized crowd, so it is not certain whether the good guys will win...

Bethea, Jesse. "The Peculiar Affliction of Allison White," in Chilling Crime Short Stories, Flame Tree Publishing, 2022.
I have a story in this book.
It is the late nineteenth century in rural New England. A young girl claims her illness is being caused by vampires. The irrational villagers believe her bizarre story and are digging up the graves of the supposed monsters. If her uncle the doctor can't stop this madness corpses are not the only ones who will be harmed.

Braithwaite, Oyinkan, "Jumping Ship," in The Perfect Crime, edited by Maxim Jakubowski, Harper Collins, 2022.

Ida is a photographer, specializing in baby pictures. Her boyfriend wants her to take photos of his new baby. Only catch is, it will be at his house and his wife will be there. She doesn't know Ida is sleeping with hubby. What could possibly go wrong? Very creepy story.

Breen, Susan. "Banana Island," in Mystery Writers of America Presents: Crime Hits Home, edited by S.J. Rozan, Hanover Square Press, 2022.

Marly is a scam-baiter for the IRS, engaging with scam artists, ideally to catch them, but at least to keep them busy so they are not robbing the gullible. She has been engaging with a Nigerian, but can't convince him to ask for money. To raise the stakes she tells him about the situation her family is facing, a real estate mess that has entangled her family. Who exactly are the good guys? Twisty tale.

Breen, Susan. "Detective Anne Boleyn," Alfred Hitchcock's Mystery Magazine, May/June 2022.
You will notice Breen has two stories in my best-of-the-year list this time. Only Brendan DuBois and Jeffery Deaver have managed that before.

An American tourist named Kit is poisoned to death in the Tower of London. Before she can get used to being dead Anne Boleyn arrives. The queen comes across as a tragic figure, very sharp except for her blind love for that nasty husband of hers. The two wronged women manage to help each other out in surprising ways..

Haynes, Dana "Storm Warning
," in Ellery Queen's Mystery Magazine, July/August 2022.
This is Haynes' second appearance on my list. Jordan is a wealth Texas oilman. The insurance company is sending an expert to examine his collection of rare paintings.
The inspector's assistant is a beautiful blond woman who looks a lot like Jordan's wife Lizette did when she first met her husband. This does not make Lizette happy. Then a tornado warning forces the characters to retreat to the storm-proof basement. Did I mention that Jordan keeps his firearms collection down there?

Hockensmith, Steve. "The Book of Eve (The First Mystery)," Death of a Bad Neighbour: Revenge is Criminal, edited by Jack Calverley, Logic of Dreams, 2022.
I have a story in this book. This is the second appearance in this column by my friend and fellow SleuthSayer Steve Hockensmith.
Abel has gone missing and his mother Eve is looking for him. The role of Watson is filled by a certain snake. Much of the pleasure here is in the way it's told, the language of the characters. A very funny story that manages to be surprisingly moving as well.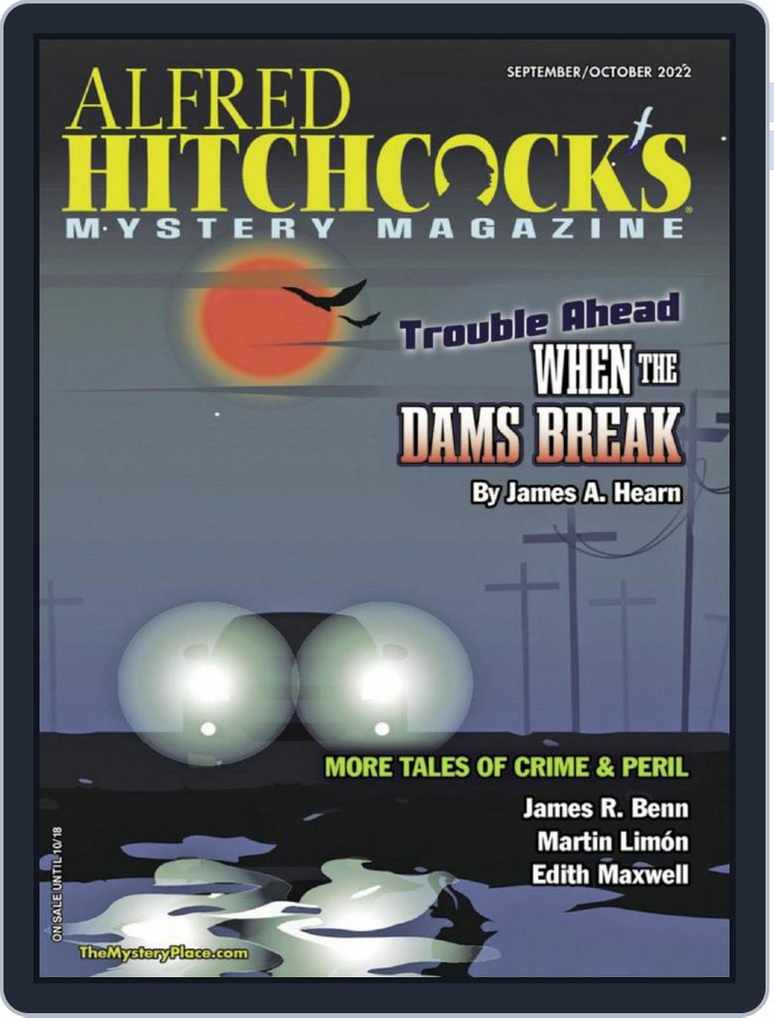 Latragna, Christopher, "The People All Said Beware," in Alfred Hitchcock's Mystery Magazine, September/October 2022.

It's St. Louis, MO, in 1955. Henry is a professional gambler who works mostly on a steamboat called the Duchess. One day he learns that the ship will be off-limits on Saturday due, according to rumor, to a mob wedding. Henry thinks it odd that the management of the ship would close down on the busiest day of the week, so he begins to investigate. Like a classic John LeCarre tale, or a set of matryoshka dolls, each secret exposed only reveals another secret, right up to the end.


McCormick, William Burton. "Locked-In," in Alfred Hitchcock's Mystery Magazine, January/February 2022.

This is the fourth time McCormick has made my best of the year column. That ties him at the top with David Dean and Janice Law.
McCormick and I sometimes critique each others work before it gets submitted for publication. I saw a version of this story back in 2019.
It's 1943. An insurance man named Jeff has just rented a house in a new city. He accidentally locks himself in the cellar. Now he has to attract the attention of a passer-by who happens to near his lonely alley. But the person he attracts is not interested in rescuing anybody...
McLoughlin, Tim, "Amnesty Box," in Alcohol, Tobacco, and Firearms, Akashic Press, 2022.
The publisher sent me a copy of this book.
The protagonist is a postal service police officer in New York City. To speed up the occasional metal detector check they must run on post office customers he invents the Amnesty Box. Customers can drop into this cardboard box anything they know they shouldn't be taking through the metal detector. The catch is they won't get the dumped items back. "Even on a slow day we would collect a couple small bags of weed and a few knives." A harmless-enough trick until something much more dangerous is dumped in the box...
Jonathan Stone, "The Relentless Flow of the Amazon," in Mystery Writers of America Presents: Crime Hits Home, edited by S.J. Rozan, Hanover Square Press, 2022.
It is the beginning of the great lockdown, "the time of boxes. Everything delivered." Annie and Tom, new to their suburban neighborhood, are getting tons of boxes which they leave in their garage to give the virus time to wander off.
One day they get an Amazon box they are not expecting. It contains two plastic but clearly real guns...

Subramanian
, Mathangi
"On Grasmere Lake
,"
in
Denver Noir,
edited by Cynthia Swanson, Akashic Press, 2022.
The publisher sent me a copy of this book.
Nithi is a young woman who lives with her mother and her father, the brutally abusive Jason. But now Jason is dead and Nithi feels guilt about that, and about other things as well.
The situation looks very bad but then it takes a delightfully unexpected twist.
Vincent, Bev. "Cold Case," in Black Cat Mystery Magazine, Issue 12, 2022.
Roger lives in Texas. One frosty morning he finds a dead man sitting on his porch. When the police arrive he refuses to let them into the house, due to COVID fears, which does not endear him to the shivering constabulatory. Roger is retired but not scared of technology, which he uses intensively in his unofficial investigation. Very witty story.
Joseph S. Walker, "More Than Suspicion," in A Hint of Hitchcock, edited by Cameron Trost, Black Beacon Books, 2022.
Walker also made my best-of-the-year list last year.
A small town in Colorado, just after Pearl Harbor. Hannah is the projectionist in the town's movie theatre. Supply chain issues leave her running Hitchcock's classic movie Suspicion over and over. Darlene, new in town, comes to see it almost every night.

Darlene hates the film's ending, in which the husband turns out to be innocent and the wife merely imaging the danger she is in. "The end is the only part that's a lie. A pretty lie, but still. He kills her. Of course he kills her." Darlene has a secret. Hannah, it turns out, has one of her own.
Zelvin, Elizabeth, "The Cost of Something Priceless," in Jewish Noir II, edited by Kenneth Wishnia and Chantelle Aimee Osman, PM Press, 2022.
This is the second appearance here by my fellow SleuthSayer. Zelvin has written other novels and stories about the Mendozas, a fictional family of Sephardic Jews, some of whom sailed with Columbus. This story begins with a letter from a modern Mendoza bequeathing to her granddaughter the family's most precious treasures: a necklace and the documents proving it belongs to them.
Intertwined with this tale is the third-person story of how Rachel Mendoza really acquired the necklace half a millennium ago. Let's say that both women found their way through considerable difficulties.