https://kelo.com/news/articles/2018/jul/18/
congressional-candidate-dusty-johnson-
praised-maria-butina-in-2015/
Some of you might remember - not that long ago! - when I did a couple of blog posts (
Mata Hari in South Dakota
) about Russian spy Maria Butina and her paramour, South Dakota's own GOP operative, Paul Erickson. They lived here in Sioux Falls and Ms. Butina did the South Dakota speaking tour, representing her own [Russian] Right to Bear Arms organization. The tour - all about God, Guns and Let's Be Friends With Russia! - included SDSU, USD, and the Teenage Republicans Camp in the Black Hills. The last was an interesting example of how you should be careful who you bring in as a guest speaker, considering the number of past and current South Dakota legislators (including recently elected US Representative Dusty Johnson!) were counselors, attendees, or just there for the party. Bet Dusty's banging his head every day over this little tweet:
Well, now Maria's pled guilty to conspiring to be a foreign agent in the U.S., and is cooperating with authorities.
Her partner, in more ways than one, was Paul Erickson - whose resume includes:
National political director / campaign manager for the 1992 Pat Buchanan presidential campaign,
Advisor to both of Mitt Romney's presidential campaigns.
Former board member of the American Conservative Union, the group that organizes the Conservative Political Action Conference (CPAC).[5]
South Dakota Trump campaign, claimed he was on the Trump presidential transition team. and during the 2016 NRA convention sent an e-mail to then-presidential candidate Donald Trump (via Trump's campaign advisor Rick Dearborn and then-Senator Jeff Sessions) with the subtle subject line: "Kremlin Connection."
Mr. Erickson has been hiding in Virginia, and has recently "
lawyered up
", which is the best idea he's had in years. For one thing, he's "Person 1" who, according to the
Statement of Offence
, "agreed and conspired, with a Russian government official [that's Alexander Torshin, Russian billionaire and close personal friend of Vladimir Putin] and at least one other person [ooo! a new mystery player!] for Butina to act in the United States under the direction of [Torshin] without prior notification to the Attorney General." The purpose of this conspiracy was for Butina to "establish unofficial lines of communication with Americans having power and influence over U.S. policies… for the benefit of the Russian Federation." Butina acknowledges that she used the National Rifle Association to forward the Russian Plan, because she believed the NRA "had influence over" the Republican Party. (Thanks,
Cory Heidelberger
, for the summation)
NOTE: The NRA is STILL staying silent as a tomb about Ms. Butina, despite the fact that there are pictures out the wazoo of her at various NRA functions (see below),
even though both Ms. Butina and the missing Mr. Torshin were made lifetime members of the NRA.
AND former NRA president David Keene visited Moscow at Mr. Torshin's behest.
AND the NRA spent a lot of money on Donald Trump's campaign. $30 million, to be specific. All of this is currently being investigated.
Ms. Butina in 2014 with James W. Porter II, then president of the N.R.A.; Wayne LaPierre, the group's executive vice president; and Rick Santorum, the former senator.
https://www.nytimes.com/2018/08/04/us/politics/maria-butina-nra-russia-influence.html
NOTE: Russian President Vladimir Putin - who was eager for her release while she was first arrested - currently says he never heard of her. Considering that Alexander Torshin has gone missing and is rumored murdered, Ms. Butina may want to try to stay in the US after trial, rather than be deported back home.
Meanwhile, though, a lot of people have asked me the simple question: why South Dakota? Why did she come here, other than for Paul Erickson's rugged good looks?
Well, South Dakota is a large rural state with a very small population (under 900,000). Our politicians are extremely, notoriously frugal - i.e., cheap. Our current assets are $3.13 trillion (yes, you read that right) in commercial and savings bank assets. We have the weakest reporting regulations you can imagine. The FBI recently busted a major New York auto theft ring using South Dakota because, "South Dakota, a state that lets people register out-of-state vehicles by mail and wasn't thoroughly checking to see if they were stolen, the FBI said." (
Citation
) We also have (among?) the most pro-business laws regarding credit cards, payday loans, and setting up LLCs and their like in the country. In my last blog I mentioned that Butina and Erickson formed a couple of LLCs here in Sioux Falls - which, it turns out, may have been laundering money from Torshin and from an as-yet unidentified Russian oligarch (perhaps the anonymous person cited above?) who has a net worth Forbes estimates to be about $1.2 billion. (
This Vox article
is still pretty darned good on the ins and outs of the whole thing.)
Anybody can form a shell corporation in South Dakota for $50 per year, without requiring a physical presence and a minimum of personal information. We have had at least two major scandals - EB-5 and Gear Up! - in which suicide (?) and/or murder-suicide and/or plain old murder followed on millions of federal dollars going missing (and still unfound). (For that matter, we haven't yet found the Westerhuis safe.) We are ranked 3rd in the country for corruption, because of single-party government, lack of transparency, backdoor decisions, and we got an "F" in executive and legislative accountability, as well as next to last in lobbying disclosure.
In other words, you can could get away with a lot in South Dakota, and nobody would notice. It was the perfect place for a red-haired, gun-toting, freedom-loving, handy Russian to be.

Which leads me to the second obvious question: why did everyone fall so hard for, and buy so completely into, Maria Butina, and her story about her pro-gun rights Russian organization, Right To Bear Arms? In Vladimir Putin's Russia? HAH! But buy it they did.

The quick answer: look at the photos:
Maria Butina, Washington Post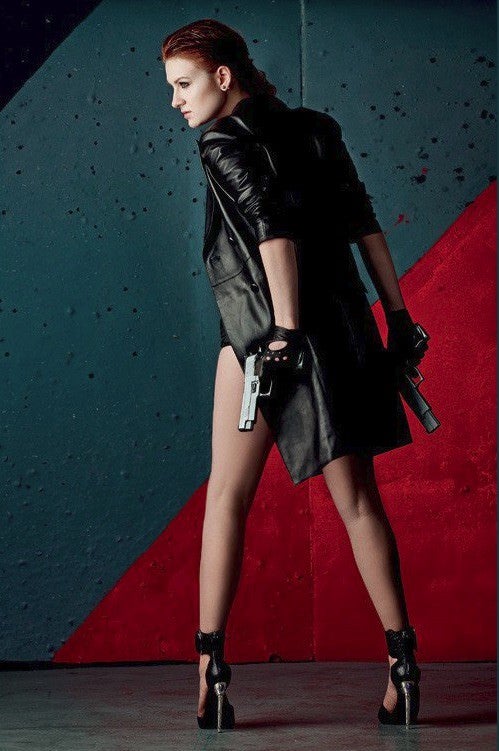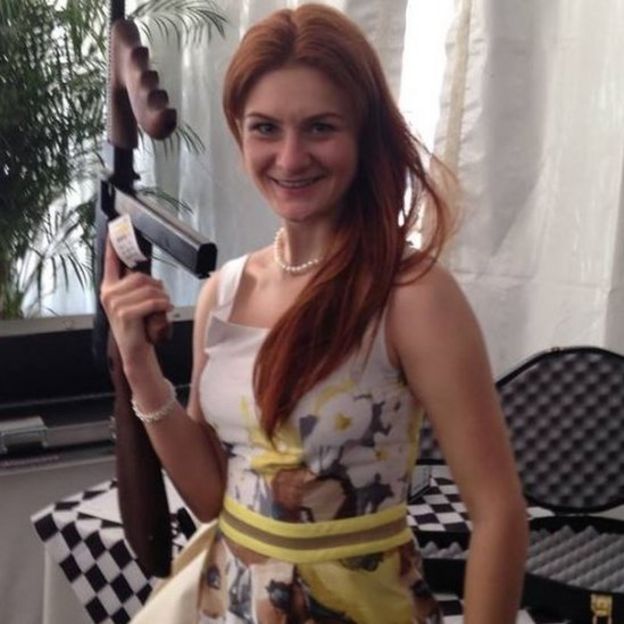 I wrote back in April of 2015 that "As societies show greater respect for "the interests and values of women" things get better, more peaceful, more prosperous, as a whole. Ironically, we're currently trying to masculinize women both in business and entertainment, where the ideal woman is now presented as a slim, beautiful, brilliant, athletic ninja warrior." (
The Better Angels...
) Meet Maria Butina. Or at least her photographs.
"Maria Butina was the ultimate NRA Cool Girl" says a
Washington Post article
, and goes on to add, "But is there a surfeit of highly intelligent, hot, bilingual Eastern European graduate students who love Jesus, cooking, guns, big-game hunting, bourbon, lipstick, cowboys and tenderly repairing the hearts of damaged men?"
Maybe. At least, that appears to have been the general conservative male hope. And, according to Gillian Flynn in
Gone Girl
, THE male hope. Read all about the Cool Girl
HERE
.
Back to WaPo: "The fact that Butina became so popular in conservative circles so quickly seems to point in the other direction: There aren't a lot of (real) women like her. "She was like a novelty," a former Michigan GOP chair
told The Washington Post last week
. "Friendly, curious and flirtatious," described another anonymous source, who met her through the Conservative Political Action Conference. The men who championed her were so pleased to meet a woman who fit an ideal mold, they never stopped to think that maybe she was an ideal mole."
Washington Post
Red Sparrow came to South Dakota, [Grateful] Deadheaded the NRA, was invited to and attended the 2017 National Prayer Breakfast, CPAC, and everything else she could find. Even John Bolton made a video for her in 2103. (
YouTube
.) Hell, she even interviewed Candidate Trump, who was happy to take her question and answer freely (and exceptionally eloquently):
You Tube Video
.
Everyone loved her. No one could get enough of her. But they're being awfully quiet about it now.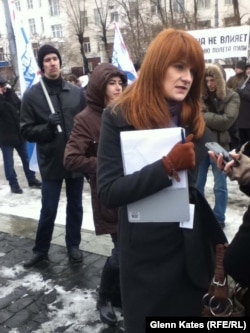 Maria in Moscow,
2012
PS: A lot of Russians also bought Maria's story and her organization. The
Right to Bear Arms
united almost all the gun rights' organizations in Russia, largely thanks to her personality. Butina was the "battery that ignited everyone" and "things started to decline" after she left, said the improbably named co-founder Muslim Sheikhov.
But Vladimir Milov, a veteran Russian opposition politician, said he noticed at the time how "well technically equipped" Butina's group appeared to be and the quality of the merchandise at their rallies. "There was a clear idea from the beginning that somebody is behind them." But, at the time, "Butina's associates... believed that
Right To Bear Arms
was being funded mainly thanks largely to member fees and the sale of several furniture stores she owned in her Siberian hometown of Barnaul."
Radio Free Europe
Instead, it was Russian billionaires Alexander Torshin and Konstantin Nikolayev, both friends of Putin. And with that knowledge comes the fear that the charismatic Butina had "founded" an organization whose chief purpose was to infiltrate Russian opposition groups and, later, the NRA. And which succeeded in doing both.
In other words, Putin managed to find a way to kill two birds - in two countries - with one stone.