by Robert Lopresti
This is going to be a short one because I don't have a lot to say. What I don't have a lot to say
about
is that I have a short story in the January/February 2019 issue of
Ellery Queen's Mystery magazine.
Naturally I am delighted by this fact, but I am not going to spend a lot of time discussing it because, 1) I have an
essay
up at the
EQMM
blog doing just that, and 2) "Please Do Not Disturb" is flash fiction, less than 700 words long, so how much can I say about it? It would be ridiculous to write something longer than the story I am writing about. (Only English professors get away with that.)
Stirling Castle, a mile from the hotel that inspired my story.
So, let's talk instead about my long, somewhat rocky relationship with
EQMM.
I discovered it in high school, after I had already been hooked by
Alfred Hitchcock''s Mystery Magazine.
(They were not yet sister, er, brother, magazines yet, by the way, having different publishers.)
EQMM
has the greater reputation but I have always preferred
AHMM
, probably because it shaped my sense of what a story should be.
And, logically enough, I have been much more successful in selling to the magazine I prefer.
The first time I ever sent a story to a publisher was 1976. I was in graduate school but somehow managed to find time to write a mystery tale. Naturally I sent it to
EQMM.
They sent it back faster that a rabid radioactive skunk, because it was awful. Don't ask to see it now. As Robert Benchley said about his diary, no one will read it as long as I have a bullet in my rifle.
I then sent it to
Hitchcock's, w
hich showed excellent taste by rejecting it as well. I finally made it into print in 1979 with a story in
Mike Shayne'Mystery Magazine,
and scored in
Hitchcock's
two years after that.
Ellery Queen
stayed out of my reach, but I persisted. Boy did I persist. "The Shanty Drummer" broke the drought, appearing in the August 2009 issue. That's right. It took thirty-three years. It was my seventy-seventh submission there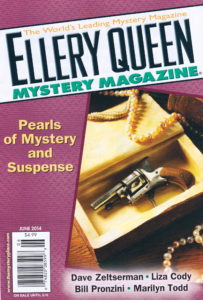 The second sale took only five years. "The Accessory" graced the June 2014 issue And now only four years later here I am again. Apparently their resistance is weakening, slightly.
So, you can see this as a story of determination and persistence triumphing, or the advantage of being too dumb to know when you're beaten. I'll take either one.
I'm going to stop now because this column will be longer than "Please Do Not Disturb" if I go on much