I have always been fascinated by the clash over evolution versus creationism. I suppose it started in my pre-teen years when I saw the movie
Inherit the Wind.
While other kids decorated their walls with Beatles posters, I had a badly photocopied picture of Clarence Darrow glaring down at me. (Yes, I was that much of a nerd. Would I make that up?)
Which may explain why I have been having so much fun reading
Between Man and Beast,
by Monte Reel. It is the true story of Paul Du Chaillu, an African-born Frenchman who, in the mid-nineteenth century became the first non-African to see (and shoot) gorillas.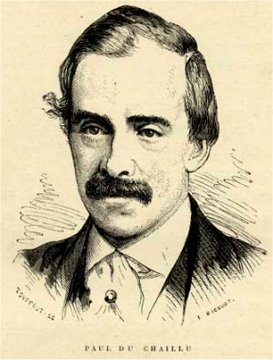 Du Chaillu
He exhibited his trophies in the U.S. and then England, which dropped him right into the controversy over Charles Darwin's
Origin of Species
among other squabbles. The cast of characters in the book is remarkable: besides Darwin there are at least small walk-on parts for Abraham Lincoln (whose Secretary of War called him "the original gorilla"), Richard Francis Burton, Charles Dickens, T.H. Huxley, J.J. Audubon, and P.T. Barnum. (If you don't despise Barnum yet, you will by the time his chapter is over.)
But the reason I am telling you all this is to bring up another person who appears tangentially in the story, a man I have never heard of. Charles Mudie was one of the most influential people in 19th-century British literature and one who, in odd-ways, feels like a person from the 21st. To use current buzzwords, he was an innovator who disrupted his industry through mass marketing.
So, how did Mudie affect literature? He was not an author, an editor, a publisher, a reviewer, or even a bookseller. In fact, he more or less invented his own occupation (and that's very 21st century, isn't it?).
In the 1850s he founded Mudie's Lending Library. For an annual fee of a guinea (just over a pound) anyone could borrow as many books as they wanted - one at a time. By 1860 when Du Chaillu arrived in London with his gorillas, Mudie had shops in many major British cities. His main location held more than 800,000 volumes.
If he thought a book was going to be popular he could order enough copies to double a publisher's print run. (And like many modern businesses he insisted on a punishing discount from his suppliers.) He put out lists of "Principal New and Choice Books," essentially the first bestseller list.
Mudie
Nowadays a lot of people worry about how Amazon can dictate terms to the publishing business. But Mudie was there first. Publishers knew that if he found a book objectionable it might not find its way to his shelf, and it definitely would not appear on his coveted list.
The reason Victorian novels were published in three volumes? So that Mudie could satisfy three customers at once. His name is casually dropped in Oscar Wilde's
The Importance of Being Earnest
and Anthony Trollope's
Can You Forgive Her?
where he is described as "the great librarian." Funny, I always thought that was me.
And now I want to get back to Monte Reel's book, which I did not borrow from any kind of library. Pleasant reading, all.