You remember Francis Bacon:
No, not that one, this one: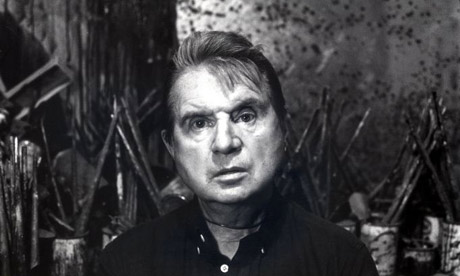 Francis Bacon, artist. Francis Bacon, gambler. Francis Bacon, bon vivant. Francis Bacon, gay, asthmatic, Irish, autodidact, devoted to his Nan, louche, rough, crazy...
Well, HE'S BACK!!!!
Yes, my favorite gay artist adventurer is back in Janice Law's "Afternoons in Paris". Francis is 18 and in the City of Lights, and very glad to be there after the craziness of Berlin (read Janice's "Nights in Berlin": the
book
and David Edgerley Gates'
review
). Now he's on his own, working for a decorator/designer by day (the somewhat susceptible Armand), visiting galleries with the motherly Madame Dumoulin, and cruising the city by night with the totally unreliable Pyotr, a Russian emigre who, like Francis, has a taste for quick hook-ups and rough trade.
Pyotr has two Russian friends, Igor, who's sinister, and Lev, who's quickly assassinated. After getting robbed (by Pyotr), beaten up (by 'Cossacks') in Montparnasse, and finding two more waiting to do the same at his lodgings, Francis tries to avoid Russians by moving in with Madame Dumoulin and her brother, Jules, who needs a caretaker. Well, it could be argued that Francis is the last person to be anyone's companion/caretaker, but our boy knows how to be appreciative. And Jules, although a traumatized WW1 veteran, is an innocent (at least compared to Francis): much like Mr. Dick in "David Copperfield", he builds complex machines and flies kites. Francis can enjoy both.
And then Jules gets a chance to design machines for the theatre group
Les Mortes Immortels
, and it's back to Paris for all. Jules' machines are the best part of a production about as audience-friendly as "Finnegan's Wake"; that and the character of Human Hope, played by Inessa, a Russian Helen of Troy who enraptures everyone around her. Except for those who are using her.
Russians are everywhere, and they're all dangerous: Pyotr; the NKVD assassin Alexi; the NKVD blackmailer Anoshkin; Inessa's missing brother, Pavel. And, wouldn't you know it, who's up to his neck in all of this but Francis' Uncle Lastings? Now known as Claude, art dealer and bon-vivant, but still up to his neck in intrigue, scams, sex, and spying. Francis has a lot of fast talking, fast running, fast thinking, and fast acting to do to survive...
Soutine's Chemin de la Fontaine
des Tins at Ceret - Wikipedia
As always, it's fascinating to see the world through Francis' eyes, especially at 18, when he is still at the beginning of creating himself. He has a knack for noticing details, from the "distinctive stink of French drains" to the "most brutal and vigorous thing I'd seen in France" - a dead rooster, painted by Chaim Soutine. When he writes to Nan that "a glance at her makes me feel more hopeful", we know that Inessa is indeed a remarkable woman, someone to pay attention to. And, when told that Pavel can't be wandering Paris without proper papers, Francis' reaction is "My own experience in Berlin led me to believe that Monsieur Chaput was exaggerating. A teenage boy has a number of ways of eluding bureaucrats and busybodies." And he would know.
Nan
Emotionally, Francis is still developing, or is he? At one point he says, regarding his commitment to Jules: "I had promised Jules, and I believe in friendship. It tends to be more stable than romance." Not to mention family. As he writes to Nan about his uncle, "I know this is a surprise, but He Who Must Not be Named has secured a job for me, and this time, I have asked to be paid half in advance. You can see I am getting wise to the ways of the world." In fact, the only person Francis trusts implicitly is Nan, in "Afternoons in Paris", "Nights in Berlin", "Fires of London", "The Prisoner of the Riviera", "Moon over Tangier" and in real life. She will always be the most stable person in his life, not excepting himself.
But even at 18, Francis is already witty, sarcastic, honest, observant, hungry, lustful, reckless, and utterly sure that he will never be among the bourgeoisie. (And how right he is.) He always gives a master class in the art of survival. Francis Bacon and Paris in the 20s - it's hard to ask for anything more.