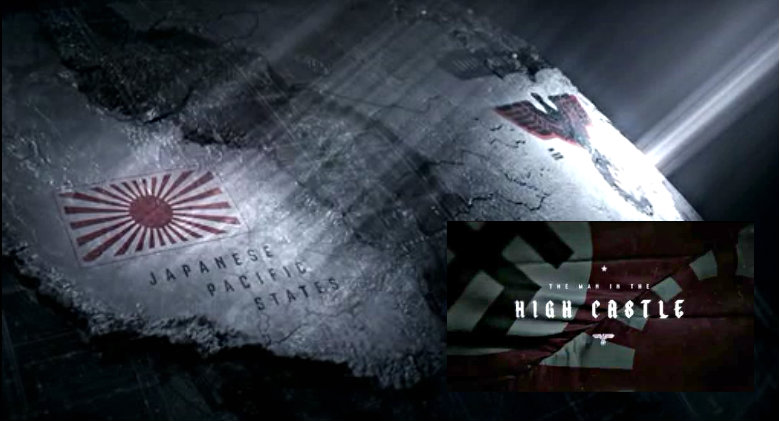 In The Man in the High Castle, the Axis won WWII,
partitioning the U.S. between Nazi Germany and Imperial Japan.
A certain "banned" media is circulating, however. This provides a mystery
around which the book is centered. (This pic is used in intro to TV series.)
On a recent trip to my local bookstore, I looked for a copy of Philip K. Dick's alternate history novel
The Man in the High Castle
, only to discover something that should have been obvious to me.
I couldn't find the book among his others, in the fiction section. Disappointed, I asked if they might be able to order a copy. The answer surprised me. You see, they had the book in stock, but it wasn't located with the other P.K. Dicks.
It was on the bestsellers shelf!
When the bookstore employee handed me the book, I asked, "Isn't this a pretty old book to be on the bestsellers list?"
"Well, yes," she responded. "But, then the TV series came out, and now everybody wants to read the book."
I nodded and eked out a chagrined smile. You see, I like Philip K. Dick and I have for a long time. I've read a lot of his work, both novels and short stories. While some of it may be a bit too metaphysical for my taste, I really do enjoy his science fiction elements -- particularly those that pose the question: Is this world we perceive around us really the world we inhabit?
Yet, here I was: a man who had schlepped down to my local bookstore to look for a book because I'd seen a television show that told me it existed -- just like the rest of the herd.
And, that herd was sizable. This book, which won the
1963
Hugo Award for Best Novel, achieved the No. 4 spot among paperback fiction, on the
December 13th, 2015
Los Angeles Times Best Sellers List. And it stayed within the top ten for four weeks. I'd say that's pretty good for a book more than 50 years old, which most readers probably hadn't heard of before the television show came out.
Which is what set me to thinking about the way TV shows can lend a second wind to author's sales, much in the same way movies do.
A friend of mine recently loaned me
Wild Cards 1
, a book of linked short stories by several different writers, edited by George R.R. Martin.
For those unaware: Martin is the author of the fantasy book series
Game of Thrones
, which HBO turned into a hit show. Some readers may decry the fact that the series doesn't quite mirror the book series, but I don't think that's hurt Martin's bank account.
Though
Wild Cards 1
has nothing to do with
Game of Thrones
, I think it has a lot to do with the manner in which the book came into my friend's (and then my own) hands -- even though Martin didn't write this book. He edited it, and wrote one of the stories.
Originally released in 1987, however, the book is back on store shelves -- along with other installments in the series. And, if you think the editors aren't trying to capitalize on Martin's HBO-associated fame, just take a look at the print size and fonts on the book cover in the pic to the right.
Not that I think this is a bad thing.
Which is actually my point.
I wanted to read
The Man in the High Castle
for several reasons:
It's a Philip K. Dick novel, and I've learned that many consider it his best. I wanted to read it, because I like much of his writing.
The plotline intrigued me.
In the TV series, the banned media is a collection of 16mm movies, which show the Allies winning WWII. I had a feeling that this had been changed, because the medium had been changed: from print media (a book) to visual media (TV). And, sure enough, in the book: the banned media is a book that describes how the Allies won the war.
I get the idea that Philip K. Dick would have understood the idea and accompanying actions of paranoia. And, paranoia is pretty close to what an underground organization has to practice, in order to stay alive. I get a kick out of the lax security practiced by members of the Underground Unit in the television show, however, and suspected Dick would have handled it a bit better. I wanted to find out.
BUT: If I hadn't seen that TV show, when would I have realized this book existed? I'm not sure it was even in print, because I tend to haunt several specific parts of the fiction shelves when I visit the bookstore, and the PK Dick section is one of these. I don't recall having seen the book in the past. (On the other hand, it wasn't there this time either.)

I really enjoyed the book. Yes, it was quite different from the television series, but in a good way I felt. I'm not sure where the TV series is heading, but the book had a definite conclusion -- posing a question I particularly liked. I've enjoyed mentally strolling among the juxtaposed possibilities suggested by that conclusion, ever since I finished the story. If you've read The Man in the High Castle, I invite you to contact me (by email or comment) to discuss the ending's potential ramifications: for both/either the characters or for us "real" people. If you haven't read it, you might think of doing so.
Meanwhile, here's to hoping some TV producer notices your book or short story and turns it into a hit. Soon, avid fans might descend like locusts, buying up anything and everything you've ever produced.
It would be nice, wouldn't it?
See you in two weeks,
— Dixon