I consider myself a lucky man. I'm married to a great lady, my children (thank God) inherited her looks and brainpower and not mine, and although I'm no billionaire I'm not homeless either, at least not at the moment. And, with regard to my so-called writing career, these past few months have been especially kind to me.
Much of my recent run of good fortune seems to be linked to the folks at
The Strand Magazine
. (I've written about that publication in two previous
SleuthSayers
columns:
"Stranded"
in November 2011 and
"Stranded Again"
in July 2014. Which led to the brilliantly original title of this piece.)
Rewind to the morning of January 21, 2015. I was scheduled for a signing that day at a library about 100 miles north of here, so after stumbling out of bed and shoveling down my breakfast I loaded some books into the car and checked Google Maps to see exactly where I was going. I was still squinting at the satellite view of the Montgomery County Library when I heard the DING of an incoming message. I yawned, rubbed my eyes, clicked over to e-mail, and saw a note from my (former)
SleuthSayers
colleague Janice Law. Before I could open it, two more DINGs, from friends Terrie Moran and Bonnie (B.K.) Stevens. All three of them said, more or less, the same thing:
Congrats on your Edgar nomination!
Believe me, there are few things that can wake a person up faster than that. One of my informants (Janice, I think) included a link to
the announcement in the Los Angeles Times
. Shellshocked, I hopped over there and was reading the article when my cell phone rang--the caller was Andrew Gulli, editor of the
Strand
. He didn't bother to identify himself--he just said "Have you heard the news?" He went on to tell me that one of my stories, "200 Feet," which appeared in the February-May 2014 issue of the
Strand
, was chosen as a finalist for the Edgar Award for Best Short Story.
How in the world did one of my stories get nominated? I had, and have, no idea. But I assure you that that news made my road trip that day a lot more fun. If the folks in that Friends of the Library group wondered why I had a dopey (or maybe the word is dopier) grin on my face during my signing, they were nice enough not to mention it.
A few days after that, on January 26, I received more good news: the
Strand
sent me word that it would publish the latest story I'd submitted to them, called "Driver." It has since appeared in their current issue, February-May 2015, and its acceptance was especially pleasant--and surprising--because the story is fairly long, around 10,000 words. I think the magazine's guidelines say they prefer "between 2000 and 6000," and most of my
Strand
stories have been right in the middle of that range--around 4K. (I like to be as dateworthy a blind date as possible, when trying to woo editors.) I'm not sure why this particular story ran so long. Maybe because it's about a scandal in D.C., and features a limousineload of crooked politicians and their hired help. The crimes and attempted crimes include extortion, robbery, blackmail, and murder, and in this case it just took a lot of words and pages to get everything I wanted into the story.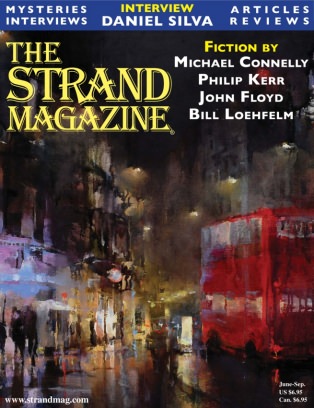 The third good thing happened almost a month later, on February 19. I received an e-mail from Otto Penzler in New York, informing me that he and guest editor James Patterson had selected one of my stories, "Molly's Plan," for inclusion in
The Best American Mystery Stories 2015
, to be published this October. (That story was also from the
Strand
--their June-September 2014 issue.) I've been buying and reading the annual
BAMS
anthology for years, and although I've been fortunate enough to be shortlisted several times I'd never before made it into the book.
As I recently mentioned to another
SleuthSayer
, David Dean, this kind of occurrence is proof positive that many things in this writing business are unpredictable. We try to write a story as well as we can, mail (or e-mail) it off, and cross our fingers that it might achieve some level of success. That's all we can do.
Even though I continue to remain pitifully clueless as to which stories will be victorious when I send them out into the world--many of them die slow and painful deaths--I also continue to believe that if you try long enough and hard enough, some will be accepted, published, and occasionally recognized in a way that gives them new life afterward. If there is a key to all this, it's that we have to keep writing and keep submitting. In my case, as one of my old IBM buddies used to say, even a blind hog can root up an acorn now and then.
Will the rest of this year be as kind to me as these past several months have been? I hope so. But I can't help wondering if I have already found and used up all the four-leaf clovers in my 2015 lawn.
Even so, I'm seriously considering the purchase of a lottery ticket.
There might never be a better time.