As I write this I am recording the closing ceremonies of the 2012 Summer Olympics from London. Nooooo, I'm not ready for it to be over. What will I do every day now? What to do every evening. No swimming, no gymnastics, no track and field, no beach volleyball. It's not fair. I'm not ready.
Just when NBC gets us all revved up and excited and hooked then they take it away. Dang, all I can see that I can do is read. But I'm out of books to be read. I could play Words with Friends on my telephone, but I seem to get beat regularly by almost everyone. I could write, but dang, I've almost forgotten how to do that. I mean it took me two days to come up with this idea and I'm not sure it's exciting enough. How could they do this to me?
I've watched NBC every day, every night. Cheered for USA, USA, USA. And Go! Leo! Go! Okay, I can guess I'd better tell all y'all (that's the plural of y'all, right Deborah?) why I'm rooting for Leo. Leo Manzana is the young man from Marble Falls, TX who ran the 1500 meters in the 2008 Olympics and got caught behind some big guys and couldn't get out. Leo broke all the high school records and won a scholarship to University of Texas and then broke NCAA records. This year, 2012, he made the Olympics again. He made it to the final heat just by the skin of his teeth. And the final was run at 3:15 pm on Tuesday, August 7th. A local bar and grille in downtown Marble Falls held a "race watch party." Strangely enough I decided to go and watch. I just thought it would be more fun to watch with a group of local people. So I got ready and went. When I got inside R Bar & Grille, I spotted a friend, Ann who happened to have a table and an empty chair. I sat down. Someone had hooked up their computer to an NBC live feed to one of the TVs on the wall.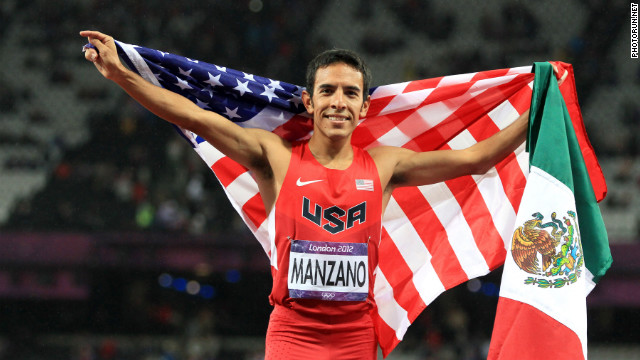 I ordered a big glass of iced tea and a snack and got ready to watch. The clock rolled around to 3:15, the runners took their places and the gun sounded to send them off. Leo took off and seemingly as usual got behind some of the big guys. Everyone was yelling, GO! LEO! GO! The bell rang for the final stretch to the finish line...Leo had moved up a little and was in 10th place. Suddenly he was on the outside running his heart out. He passed everyone except the leader and he WON SILVER!! It was so exciting. And it absolutely was fun to watch with my friend Ann and a group of strangers. All of us were thrilled that our hometown hero had won a medal.
Leo is quoted in today's (Sunday) Austin newspaper: "My legs just felt like they were bricks, but something inside me said keep going, keep going, keep pushing, keep pushing."
One of my other friends, singer songwriter, john Arthur martinez, wrote a song several years ago for Leo. The song is titled, "Dare to Dream Out Loud." You see, Leo was born in Mexico. His parents moved to Texas when Leo was four. When he first came out for track in school he was running in a pair of old boots because he didn't know nor could he afford track shoes. But the coach could see Leo was fast and he had heart. And Leo had a dream. A dream to go to the Olympics. A dream to win a medal for the USA. And Leo Manzano didn't give up. His family didn't give up. They made a better life for their family. They became citizens of the USA because they dared to dream.
A dream is all many of us have. A dream to write. A dream to be published. A dream to succeed.
Dare to Dream. But remember as you dream you must also work towards that goal. I'm going to miss watching the summer Olympics. Every single athlete who made it there had a dream, but they also worked like crazy for four or eight or twelve years. For some their dream came true.
Leo's dream came true and so can yours.
Congratulations to Leo Manzano, winner of the Silver Medal in the 1500 meter run in the 2012 Olympics in London.