As I mentioned
here
not too long ago, I think one of my writing strengths is premises and one of my weaknesses is plots. A result of that is a notebook full of ideas which will probably never bloom into short stories.
Several pages of said notebook are devoted to Shanks, the crime-writing character who has appeared in a bunch of my stories. Years ago I dreamed up this idea: Shank is on a committee trying to restore a Depression-era opera house in his city. It would be called the World Theatre, which would let me use the title (snicker) "Shanks Saves The World."
I liked it a lot. Only problem: What would my hero do to get the money for the restoration?
Sort of a big plot gap, right? And so the story sat in my notebook for years. But then I had a breakthrough.
I have mentioned before here that I also wrote a series of stories about
Uncle Victor
. He is the elderly, eccentric relative of a crime boss. His nephew reluctantly tolerates him because doing so was the last request of the previous godfather. So when Victor decides to become a private eye, nephew Benny pulls strings to get him a license.
Several stories about this odd duck made it into print but then my market for them,
Murderous Intent Mystery Magazine,
went the way of all periodicals and I moved onto other things.
However, I remembered that I had written a story in which an aging music producer hires Victor to hunt down some musicians he cheated and now wants to do right by The draft was still sitting in my files.
So what if we offer Uncle Victor a well-deserved retirement and send Shanks to the producer instead, asking for a big donation for the theatre where, by a wonderful coincidence, some of the old man's bands used to perform? And the producer says, to get my money you have to find these musicians I ripped off decades ago...
Suddenly I had a plot. The result, titled (as you probably guessed) "Shanks Saves The World," is featured in the current (May/June 2020) issue of
Alfred Hitchcock Mystery Magazine.
It is my 31st appearance there, and Shanks' tenth.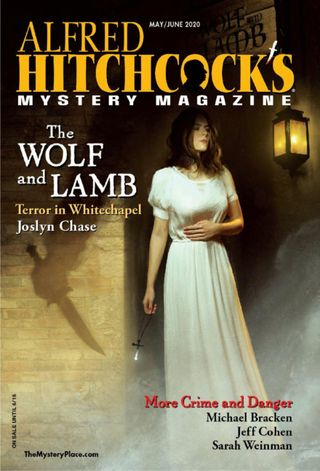 I am especially glad the story made it into this issue because another Shanks story, a sort of sequel to this one, will coming out this summer in an anthology. More on that in a later installment.
And speaking of more, if you want to read a completely different essay I wrote about "Shank Saves The World," you will find it at
Trace Evidence,
the
AHMM
blog.
And I hope you enjoy the story. Now back to my notebook...