This is my eleventh annual list of the best mystery stories of the year as chosen by me. They are selected from my weekly best-story-review at Little Big Crimes.
2019 was the second year in a row that my number of favorites dropped by three. So I have to ask my sibling authors: Is it you or me? Probably me.
The big winner this year is Akashic Press, since fully half of the stories come from their anthologies. I should point out that they sent me free advance reader copies of all those books. You cynics can draw your own conclusions.
Alfred Hitchcock and Ellery Queen Mystery Magazines both scored two winners.
Seven authors are men; five are women. Two are Australian; one is Dutch. The rest, as far as I know, are Yankees.
Three of the stories are historicals. Three are funny. Two have fantasy elements.
And congrats to the winners. Your impressive trophies are in the mail. If they never show up it's the fault of porch pirates. Probably.
Boswell, Robert, "The Use of Landscape," in Houston Noir, edited by Gwendolyn Zepeda, Akashic Press, 2019.
Boswell offers a charming story about sociopaths. Cole is the planner. All he cares about is money. Not to buy things; just a way of keeping score. He met his girlfriend when she tried to rob him. Tariq is a bartender and expert at cleaning crime scenes. Tariq has pointed Cole to a young woman, rich in money, poor in personality and brain power.
"Did I tell you what happened at Affirm today?" Madelyn asked. Affirm was her gym. She described the days activities in excruciating detail, a saga that lasted nearly twenty minutes. Summary: she exercised.
You will be mightily entertained as the trio the narrator calls the Criminal Element plot their nastiness while discussing women's underwear and the books of Virginia Woolf.
Case, Sabrina, "Our Man in Basingstoke," in Fiction River: Spies, 2019.
Pity Sir Almsley. He gave his estate to the War Office to help fight the Nazis, not expecting that he would be put in charge of a project to create new espionage techniques. He has no skills in that field, his mission is underfunded, and his staff consists of what the sergeant calls "a human scrap metal drive."
But that's not all. Peter Tilling, an enthusiastic and imaginative child, has been sent to a nearby farm to protect him from the blitz in London. He is eager to slip into Almsley's estate to see the top-secret devices being built there. Good luck with that, young Peter....
Clancy, Christi, "'Mocking Season," in Milwaukee Noir, edited by Tim Hennessy, Akashic Press, 2019.
Whitefish Bay is a pleasant bit of suburbia until it is disturbed by the arrival of Erin, who we might perhaps call a middle-aged hippy. She lived in the one home that was not visible from the street, which disturbs the keepers of community norms, "the mothers," who feel that "It didn't seem right to live where you couldn't be seen." And then there is her charismatic son Lief, who gets the boys into strange habits, like sleeping out doors. That may be problematic because the mothers seem to care more about their yards than anything else...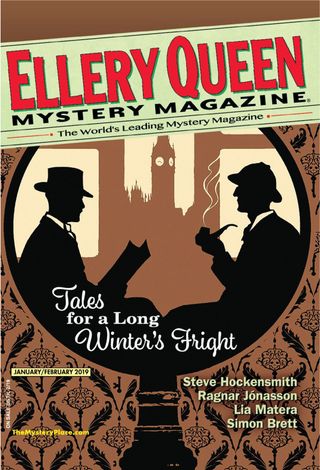 Coward, Mat, "Shall I be Murder?", in Ellery Queen's Mystery Magazine, January/February 2019.
In Coward's second appearance on my list, our narrator gleefully explains that he is "a self-confessed unreliable narrator." Is he, as it appears, a blackmailer? A murderer, perhaps? Or something else entirely? And clearly his obvious lying is part of his plan, but why?
Dapin, Mark. "In the Court of the Lion King," in Sydney Noir, edited by John Dale, Akashic Press, 2019.
Chevy is an architect and he is in prison awaiting trial. The police have security camera evidence that he killed his best friend, Jamie.
Fortunately, Chevy has a lawyer: an ex-girlfriend with no knack for the legal profession. Oh, and the Vietnamese in the prison want him dead. Maybe the Lion King, a disgusting gang boss, can protect him for a price.
Don't worry. Everything is going according to Chevy's plan...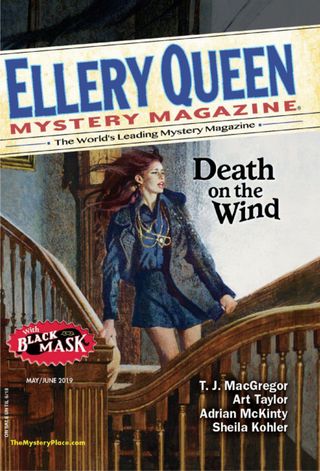 Dean, David, "The Duelist," Ellery Queen's Mystery Magazine, May/June 2019.
My friend and fellow SleuthSayer, David Dean, is making his fourth appearance here. This ties him for first place with Janice Law.
The time is pre-Civil War and the place is Natchez, Mississippi. Captain Noddy has a habit of taking offense at innocent remarks by country bumpkins, and then taking their lives in duels.
Now a down-on-his-luck gambler named Darius LeClair has arrived in town and seems quite careless in talking to the dangerous captain. Is he foolish or is he doing it on purpose? Is he in fact a gambler or something quite different?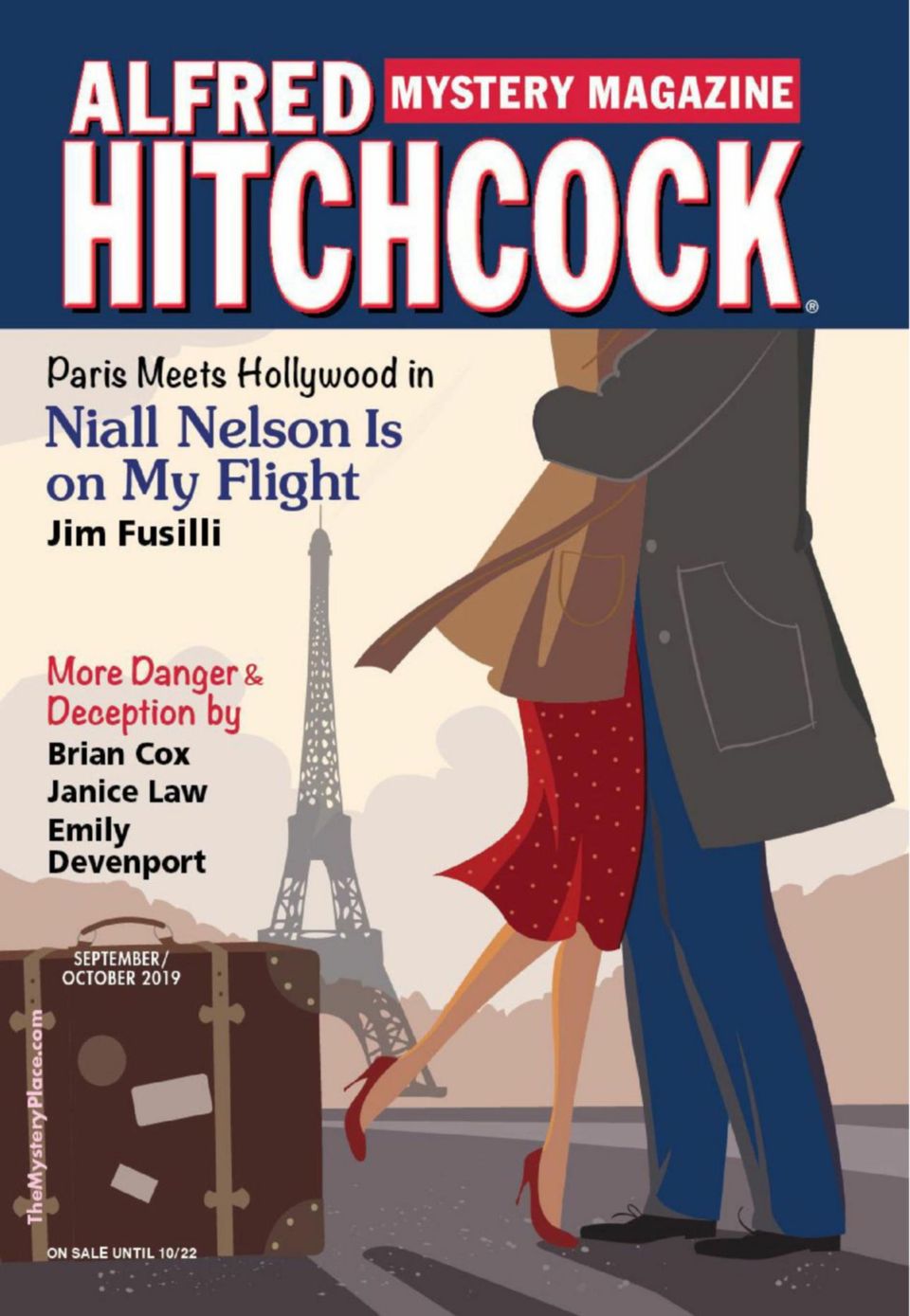 Fusilli, Jim, "Niall Nelson is on my Flight," in Alfred Hitchcock Mystery Magazine, September/October 2019.
Betty's point: You don't send money back. You don't negotiate out of insecurity. You push hard. You demand.
My question: Do they really want me?

Paul has written a treatment for a movie based on the life of musician Nick Drake and now he is flying to France to talk to a studio interested in making the flick. He is afraid he is not good enough. His much-younger wife Betty clearly thinks he is not ambitious enough. And it turns out a famous A-list actor is on their flight, someone Betty thinks he should find a way to talk to...

I love Fusilli's clever had-I-but-known use of foreshadowing. It was one of those men, I later learned, who set out to harm us.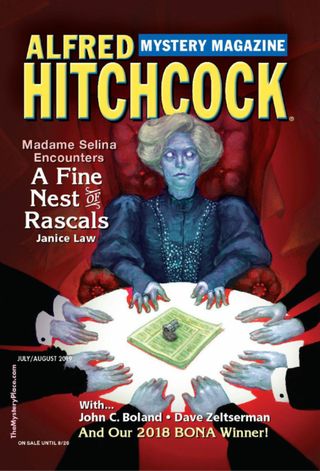 McCormick, William Burton. "The Three Camillas," Alfred Hitchcock's Mystery Magazine, July/August 2019.
This is the second appearance here by McCormick.
The story is set during the rule of Caligula the mad in the Roman empire. The narrator is Camilla Tertia, which is to say, the third Camilla. Tertia is twelve and, she reports proudly, "already considered far and wide the scoundrel and gossip of the family."
Her sister Secunda is about to make an unhappy marriage. Tertia decides it can be prevented if her expensive engagement ring is lost - a bad omen! And who better to make it disappear than Quintus the Clever, the luckless thief? "Be an honest man, Quintus, and rob my sister!"
McFadden, Bernice L. "OBF, Inc," in Cutting Edge, edited by Joyce Carol Oates, Akashic Press, 2019.
Andrew is being laid off because the head of his company has been accused of multiple sexual harassment issues, leading the corporate stock to walk off a cliff.
But good news! OBF, Inc. wants to talk to him about a possible job. What is OBF exactly and what do they do? The answer is extremely interesting and thought-provoking.
Taylor, Art, "Hard Return," in Crime Travel, edited by Barb Goffman, Wildside Press, 2019.
The man and the woman had reached that stage where their relationship would either turn more serious or slowly begin to dissolve. The seriousness wasn't about sex, a threshold they'd already crossed, but a step into some deeper, more emotional intimacy.
My fellow SleuthSayer has written a fine story about time travel as, I think, a metaphor for certain human interactions.
Tranter, Kirsten, "The Passenger," in Sydney Noir, edited by John Dale, Akashic Press, 2019.
It's a rare thing when I agree with the Edgars Award short story judges, but we can sing harmony on this one.
Robert reluctantly attends a birthday party for an wealthy man, who is the father of his ex-girlfriend. The father confides that the daughter's husband has vanished. Can Robert help find him? And then there's the younger daughter, who is caught up with a pornographer...
If this sounds familiar it is because this is a very clever homage to a famous crime novel.
van Keulen, Mensje, "Devil's Island," in Amsterdam Noir, edited by Rene Appel and Josh Pachter, Akashic Press, 2018.
The narrator is trying to be helpful to his friend. Jacob's girlfriend left him and he can't seem to get over it. On one bad night he even says "I'd sell [the devil] my soul if he'd make Martha come back to me."
Later that evening they are standing among the cigarette puffers outside a pub when a stranger comes out of the smoke and asks Jacob for a light. He says that he prefers the old-fashioned wooden matches called lucifers. "I like the smell of them, though, that momentary blast of sulfur..."