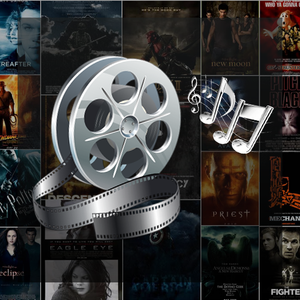 Our house is alive, usually, with the sound of movie music. I've always loved it, and I'd probably be
embarrassed to know exactly how many soundtracks I've purchased in my life, or how many movie themes I've picked out on the piano or guitar, or even how many I've listened to over the past year or so, either on CDs or via my Amazon Echo. It also dawned on me awhile back that the movies I most enjoy watching over and over and over again--I do a lot of re-watching--are those that have terrific music.
Two observations. First, I fully understand that some excellent dramatic films have very little music (
Dog Day Afternoon
,
Network
,
Cast Away,
and
Rope
come to mind), and some have scores that are--how should I put this?--more functional than memorable. Second, even though I believe that a fine soundtrack cannot make a bad movie watchable, I also believe that a fine soundtrack can make a mediocre movie good or a good movie wonderful. One of my cinematic heroes, Sergio Leone, once said, "It is the music that elevates a movie to greatness." His practice was usually to have composer Ennio Morricone write the entire score first, and then Leone directed the movie to match the music, rather than doing it the other way around.
A sound approach
It's interesting to me as a writer that music can be a tool to help the storytelling process itself. All authors, whether they're writing novels, shorts, plays, or screenplays, want to "connect" with their audience, and in movies the right music at the right time can trigger emotions in the viewer that might otherwise be hard to reach. I never fail to get a tear in my eye when the camera backs slowly away from a distant Tara to include the oak tree and Scarlett standing underneath and the music builds to a crescendo. Or to feel a chill shimmy down my spine when Ripley claws her way to safety in the final moments of
Aliens
(as James Horner's score is pounding at my brain), or when Rocky runs the steps, or when Indiana Jones chases tanks on horseback, or when Bogie tells Bergman to get on the plane to Lisbon, or during the opening credits of movies like
Top Gun
or
Superman
or
Goldfinger
or
The Big Country
. And I guess I'm just enough of a romantic to love it when Richard Gere marches into the factory and sweeps Debra Winger off her feet (literally) in that final scene of
An Officer and a Gentleman
--and I don't think I'd feel any of those thrills without the accompanying music.
Once an officer but no gentleman, I am also no expert on music. I play a few instruments (badly, and for no one's enjoyment but my own), my singing is so pitiful it scares the neighbor's dog, and I've had no musical training (my educational background is, God help us, electrical engineering and computers). But I know what sounds good to me, and I know what I like.
Music to my ears
So here's the deal. If you enjoy a great soundtrack along with your movie-watching, I have taken the liberty of listing fifty of my favorites, in no particular order:
The Natural
-- Randy Newman
The Big Country
-- Jerome Moross
Legends of the Fall
-- James Horner
The Rocketeer
-- James Horner
The Godfather
-- Nino Rota
Superman
-- John Williams
Jurassic Park
-- John Williams
Star Wars
-- John Williams
The Last of the Mohicans
-- Trevor Jones
Casablanca
-- Max Steiner
Gone With the Wind
-- Max Steiner
The Man From Snowy River
-- Bruce Rowland
The Thomas Crown Affair
(1968) -- Michel Legrand
Medicine Man
-- Jerry Goldsmith
L.A. Confidential
-- Jerry Goldsmith
Somewhere in Time
-- John Barry
On Her Majesty's Secret Service
-- John Barry
Body Heat
-- John Barry
Dances With Wolves
-- John Barry
Goldfinger
-- John Barry
Out of Africa
-- John Barry
The Pink Panther
-- Henry Mancini
Hatari
-- Henry Mancini
Escape From New York
-- John Carpenter
Signs
-- James Newton Howard
Rocky
-- Bill Conti
The Right Stuff
-- Bill Conti
Lawrence of Arabia
-- Maurice Jarre
Doctor Zhivago
-- Maurice Jarre
Witness
-- Maurice Jarre
The Graduate
-- Simon and Garfunkel
Back to the Future
-- Alan Silvestri
A Fistful of Dollars
-- Ennio Morricone
For a Few Dollars More
-- Ennio Morricone
The Good, the Bad, and the Ugly
-- Ennio Morricone
Once Upon a Time in the West
-- Ennio Morricone
Once Upon a Time in America
-- Ennio Morricone
Butch Cassidy and the Sundance Kid
-- Burt Bacharach
The High and the Mighty
-- Dimitri Tiomkin
High Noon
-- Dimitri Tiomkin
Vertigo
-- Bernard Herrmann
Psycho
-- Bernard Herrmann
Quigley Down Under
-- Basil Poledouris
Cat People
(1982) -- Giorgio Moroder
The Magnificent Seven
-- Elmer Bernstein
The Great Escape
-- Elmer Bernstein
Dirty Harry
-- Lalo Schifrin
True Grit
(2010) -- Carter Burwell
Blood Simple
-- Carter Burwell
Gladiator
-- Hans Zimmer
This is my request: When/if you watch or re-watch any of those, pay special attention to the music. You won't be disappointed.
NOTE 1: Only a dozen or so of the above movies are in the mystery/crime genre. Apologies to my fellow
SleuthSayers
--this isn't the first time I've wandered away from our usual topic, and probably won't be the last.
NOTE 2: I intentionally listed no musicals, no TV shows or miniseries, no animated features, and--except for
L.A. Confidential
--no soundtracks packed with classic songs. In doing so, I have regrettably omitted favorites like
Oklahoma
,
Mary Poppins
,
A Hard Day's Night
,
West Side Story
,
Calamity Jane
,
Jesus Christ Superstar
,
Grease
,
Game of Thrones
,
Lonesome Dove
,
Lost
,
American Graffiti
,
Goodfellas
,
Forrest Gump
,
Top Gun
,
The Big Chill
,
Reservoir Dogs
,
Easy Rider
,
Pulp Fiction
, etc.
Questions
How important to you is the music in a movie? Do you even notice it? If you do, what are some soundtracks you especially enjoyed? As with most lists, I'm sure I forgot some of the best.
If you have recommendations, please let me know. (Cue John Williams's theme from
E.T.
) I'll be right here…