by John M. Floyd
Here's the question of the day, for all you writers out there: How Blatant should Self-Promotion be?
Consider this definition, found at the Oxford Learner's Dictionaries site:
Blatant self-promotion is the activity of making people notice you and your abilities, especially in a way that annoys other people.
Everyone knows what the key word is, in that sentence. And nobody
wants
to be annoying. The sad thing is, I think many of us are annoying without realizing it--and somehow that's even worse. Most of us grow weary of having people show us their grandchildren's (or their cats' and dogs' ) photos on their cell phones, but we can't imagine how anyone could grow weary of seeing ours. This isn't quite the same as the blinders we wear regarding self-promotion, but it comes close.
These days, it's an unpleasant fact of life that we authors, whether self-published or not, are expected to do a certain amount of marketing, of both ourselves and our product. Otherwise, unless we're famous to begin with, no one except friends and family are going to know who we are or what we've done. I understand that. We're told constantly that we need a "platform," and a plan for spreading the word, whether it's via Facebook, Twitter, Instagram, blogs, websites, interviews, signings, speaking engagements, or all of the above. But the question is, how much of that can you do before you go overboard, and become an embarrassment to yourself
and
to friends and family?
How much is too much?
One thing that makes self-promotion appealing, at least to the self-promoter, is that talking or writing about yourself isn't all that hard. You know yourself and your accomplishments, better than anybody else does. Whether you can be objective about it is another matter, but the truth is, something like a blog post about your latest project is pretty darn easy to do--it doesn't require any research or any real work. So, do I do that, now and then? Sure I do. But nobody, including my mother, wants to hear
too
much about me, or to hear about me all the time. (Well, maybe Mom does, but she's the only one.)
I think the answer--and it seems to be the answer to a lot of life's problems--is moderation. Of course we should try to get our names out there, and put our best foot forward in things like bios, cover letters, press releases, etc. But I think that process has to be grounded in some measure of common sense. Nobody wants to get emails every day from the same person, asking for five-star reviews and "likes" and visits to author websites and votes for best-novel-cover contests. I mean, Sweet Jumpin' Jiminy.
By the way, I am not innocent of BSP crimes. After all, my post here at
SleuthSayers
a week ago was a discussion of several of my own stories that appeared in recent publications. I guess all of us do that kind of thing occasionally--some more than others. As Brother Dave Gardner once said, of a traveling preacher who made a whistle stop in Irondale, Alabama, and was addressing the crowd: "He said, 'Let him who is without sin cast the first stone,' and BLAP that rock hit him."
Bios and egos
BSP can take many forms. A writer's bio that goes on and on and on can make a reader's stomach cramp and his eyes glaze over, and there's even a school of thought that says the longer the printed bio, the less the writer has actually accomplished--the wannabe author just writes more words about less important things. Even the automatic signature you place at the end of your emails can be too much. Twenty lines of text following your name and listing all your publications and awards and nominations and third-place wins in contests might be overdoing it just a bit. In fact, it might be eighteen or nineteen lines too long.
Same thing goes for booksignings. I'm not saying it's a good idea to sit there at the signing table and stare at prospective buyers like a frog on a log, but it's also not good to call out to passersby like a snake-oil salesman at the county fair or chase them down and pester them with questions. As a customer, I have often strolled over to chat with an author, especially one who smiles and makes eye contact, and I have often (maybe too often) bought his or her book as a result--but I will probably never buy anything from an author who eagerly blurts "Hey, do you like reading mysteries? You'll like this one. Come over here and take a look." Maybe I'm old-fashioned, but I like to feel that the buy/no-buy decision is my own to make, without a lot of arm-twisting. Whether it's a book or a pair of shoes or a bag of peanuts.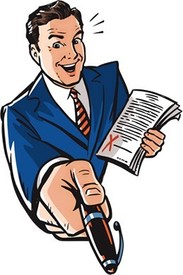 I do try to post my upcoming booksignings on Facebook, mainly because my publisher (who's much smarter than I am, on these matters) has encouraged me to, and also because I know that it has occasionally steered folks to the bookstore on the day I'm there. I don't think that kind of thing is being too pushy; I think it makes sense. But some of the all-out blitzes people do on social media, especially regarding book launches, can get out of hand. All of you know what I mean. There's a fine line there, between aggressive and excessive, and I'm thinking (and hoping) that most of us know where to draw that line and not to leap over it.
What do you think?
Author and editor Ramona DeFelice Long said, at her blog, that writers should keep Goldilocks in mind and do what feels right.
But what
does
feel right? Do too little, you're shy or lazy. Do too much, you're obnoxious. You're either a wallflower that nobody knows or an insurance salesman that nobody wants to know.
What's your response to this? How do you, as a writer, try to do what's required without being overwhelming? What are your personal "rules"? Also, what makes you, as a potential buyer of a piece of fiction, uncomfortable or annoyed? When does SP become BSP?
By the way, do you like reading mysteries? Have I got a deal for you . . .
Just kidding.