Ford Madox Ford
I was on a panel about writing at our local library and the moderator asked each of us "What book or story would you love to have written, and have put your name to?" My answer was - and is -
The Good Soldier
, by Ford Madox Ford.
It may be the perfect novel. I read it every year both for pleasure and to analyze its amazing structure. Very short (under 200 pages), tightly woven, seemingly infinitely layered and complex, Ford himself said that "I had never really tried to put into any novel of mine all that I knew about writing... On the day I was 40, I sat down to show what I could do – and The Good Soldier resulted."
It begins, "This is the saddest story I have ever heard." And right there is the first hint that we're dealing with one of the most unreliable narrators in history. Because John Dowell didn't hear this story: he lived it. John Dowell and his wife Florence, both Americans, meet Captain Edward Ashburnham and his wife, Leonora, of Branshaw Teleragh, England, at a spa in Nauheim, Germany, where Edward and Florence are being treated for heart ailments. The Ashburnhams "take up" with the Dowells, and they spend all their time together for the next nine years. Until it all collapses when Florence dies, and Dowell discovers a number of things:
that Edward and Florence having an affair, which he never knew.
that Florence never had a heart problem at all. Instead, she'd faked a heart complaint to stay in Europe, originally so that she could continue her affair with her uncle's American bodyguard and helper, Jimmy.
that Edward and Leonora hadn't spoken in private for perhaps twenty years.
that Edward was a serial philanderer, whose known adventures began with a conviction (!) for assaulting an Irish servant on a train.
that Edward was now in love with his young ward, Nancy Rufford.
that Florence killed herself... well, look down under questions...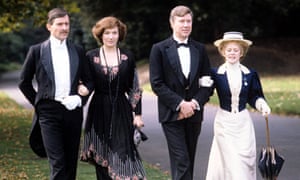 The 1981 TV adaptation, with Jeremy Brett and others
Dowell also admits a few things:
that he and Florence never had sex, because of her supposed heart problem.
that he is extremely glad to be rid of Florence. Florence begins as "poor dear Florence" and ends up "a contaminating influence... vulgar... a common flirt... an unstoppable talker..."
that he is now extremely wealthy, because Florence was an heiress.
that he wants to marry Nancy Rufford.
And then there are the things that are hinted at, implied, downright said but then denied.
Dowell admires Leonora Ashburnham more than any woman on earth, and also considers her "the villain of the piece".
Dowell's admiration of certain men, beginning and ending with Edward Ashburnham, of whom he says, "I loved Edward Ashburnham - and that I love him because he was just myself. If I had had the courage and the virility and possibly also the physique of Edward Ashburnham I should, I fancy, have done much what he did..." But there was also a nephew, Carter ("handsome and dark and gentle and tall and modest.... [whose] relatives... seemed to have something darkly mysterious against him") , and hints at others.
Dowell's greed for the sensuous pleasures of life, from caviar to Kummel to... other things...
Dowell has never worked a day in his life.
The first reading of the book is heartbreaking. Both Edward and Florence commit suicide, and Nancy Rufford goes insane. Believe it or not, this is not a spoiler: this is first chapter stuff. The point is, that the first reading, gives you the plot, the second - maybe - gives you the motivations, and the third... well, there's a lot of questions.
Why did Florence commit suicide? Was she really that heartbroken about Edward and/or that terrified of Dowell? (Dowell describes them both as "violent" men...)
Did Florence commit suicide? (There was a letter...)
What was Dowell doing during the two to four hours between Florence's death and and the discovery of her body?
Why did Dowell marry Florence, a woman he did not love, take her straight to Europe, and do everything she and the doctors told him to?
How many women was Edward Ashburnham involved with? (Six are detailed, but there's also "the poor girl, the daughter of one of his gardeners" who was accused of murdering her baby at the end...)
Did Edward commit suicide? And how? Two different ways are given...
What about Edward's alcoholism?
What about Dowell's alcoholism?
In other words, what the blazing hell really happened?
And all is told in a magnificent, elegiac, Edwardian style that is rich as plumcake. Read it, and let me know what you think.
Available at Gutenberg Press for free at:
Gutenberg Press Edition
Available on Kindle for free at
Kindle Edition
(Though I still prefer a hard copy, where I can scribble notes - almost as cryptic as the text - all over it...)
Also, the most interesting article of all that I've ever found on "The Good Soldier" compares Ford Madox Ford to H. P. Lovecraft:
"Ford Madox Ford: As Scary as HP Lovecraft?"
Maybe...