NOTE: Many thanks to Leigh Lundin for pinch-hitting for me two weeks ago, and posting one of my Criminal Brief columns in this space. My computer had put all four feet in the air, and I'm afraid my iPad and iPhone weren't up to the task of creating a new SleuthSayers column. I'm now back in the saddle, so to speak, with a repaired iMac and poorer by several hundred bucks, and I do appreciate the help, Leigh. (As promised, the answers to the fifty movie quotes that appeared in my post two weeks ago are included at the end of today's column.) — JF
Years ago, not long after I had begun this whole writing-and-submitting-stories thing, I joined
a mystery readers' group in nearby Jackson, Mississippi. During my second or third meeting I sat beside a local news reporter named Bill Minor, an avid reader and author who even in his retirement from journalism still writes an occasional column for the state newspaper. Bill always gave me good writing advice, and on that particular day in 2001 he gave me a book and told me to take it home. "Don't just read it, study it," he said to me. "It's one of the best mysteries I ever read, by one of the best writers around." The novel was Joe R. Lansdale's
The Bottoms
, which won the Edgar Award for Best Novel and a slew of other awards as well. Bill was right, by the way, about how good it is. To this day it remains one of my favorite books.
And Lansdale, although not exactly a household word, is no one-hit wonder. He was writing and publishing stories and novels long before
The Bottoms
, and is still turning out great fiction in several different genres--mainly mystery, horror, and fantasy. I like his work for the same reason I like Stephen King's: his writing is always, above all else, entertaining. Sometimes it's profound and meaningful and even beautiful, none of which is a bad thing. But it's
always
entertaining.
Odd can be good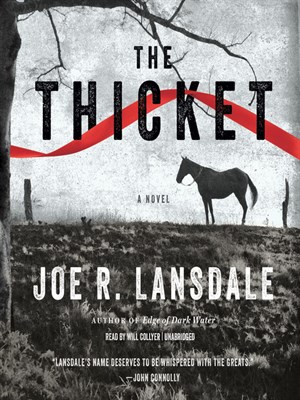 Lansdale is probably best known for--what's the word?--
quirky
fiction. His plots are complex, twisty, and violent; his characters are unique and at times outrageous (the legendary and terrifying Goat Man in
The Bottoms
, a gunslinging midget in
The Thicket
, a backwoods killer-for-hire named Skunk in
Edge of Dark Water
); and his settings are usually east Texas, which in landscape and attitudes is more like the Deep South than Texas. And much of his fiction seems to involve dysfunctional families, racial tension, coming-of-age plots, and a Great-Depression-era timeframe. (Another similarity to King is that Lansdale often uses children as his protagonists.)
I haven't read all of his many novels and story collections, but I've read most of them, and even though it's hard to pick favorites when you can think of a lot of things you like about each one, these are the six novels I've enjoyed the most:
The Thicket
(2013)
Edge of Dark Water
(2012)
The Bottoms
(2000)
A Fine Dark Line
(2002)
Sunset and Sawdust
(2004)
Freezer Burn
(1999)
Hap, Leonard, and friends
The books I've mentioned are standalone tales, but Lansdale has also written a number of series novels featuring Hap Collins and Leonard Pine, one of the most delightful partnerships in fiction. Their adventures include
Savage Season
,
Mucho Mojo
,
Captains Outrageous
,
Bad Chili,
Devil Red
, and
Dead Aim
. And thankfully, we'll soon be seeing them as well as reading about them: I'm told a TV series is under development for the Sundance Channel, which will feature Michael Kenneth Williams (from
The Wire
and
Boardwalk Empire
) as Leonard. Hap is yet to be cast.
A movie version of
The Bottoms
is also in the works, to be directed by actor Bill Paxton, and other film adaptations include
Cold in July
and
Jonah Hex
.
Whether you see his characters onscreen or on the page, I hope you'll give Joe Lansdale's work a try.
You'll like it.
_______________________________________________________________________________
Answers to my March 7 "movie quotes" quiz:
1. I love the smell of napalm in the morning.
Apocalypse Now
(Robert Duvall to troops after an attack)
2. Where's that Joe Buck?
Midnight Cowboy
(restaurant owner to his staff, concerning employee Jon Voight)
3. Be careful, out there among them English.
Witness
(old Amish farmer to Harrison Ford, as Ford leaves for the city)
4. In the end you wind up dying all alone on some dusty street. And for what? A tin star?
High Noon
(Lon Chaney, offering advice to Gary Cooper)
5. Miss Jean Louise, stand up. Your father's passing.
To Kill a Mockingbird
(old man to Scout--Mary Badham--after the trial)
6. You design TOY airplanes?
The Flight of the Phoenix
(Jimmy Stewart to engineer Hardy Kruger)
7. Fat man, you shoot a great game of pool.
The Hustler
(Paul Newman to Jackie Gleason)
8. I'm George, George McFly. I am your density. I mean . . . your destiny.
Back to the Future
(Crispin Glover to Lea Thompson, in the diner)
9. He did it! He missed the barn!
Cat Ballou
(Michael Callan, when a drunk Lee Marvin tries to prove his marksmanship)
10. Remember me? I came in here yesterday and you wouldn't wait on me. Big mistake.
Pretty Woman
(the new and improved Julia Roberts, to salesclerk)
11. We in the FBI don't have a sense of humor that I'm aware of.
Men in Black
(Tommy Lee Jones to housewife, when she asks if he's making fun of her)
12. I saw it. It was a run-by fruiting.
Mrs. Doubtfire
(Robin Williams to Pierce Brosnan)
13. Any man don't wanna get killed, better clear on out the back.
Unforgiven
(Clint Eastwood to the group in the saloon)
14. Throw me the idol, I throw you the whip.
Raiders of the Lost Ark
(Alfred Molina to a desperate Harrison Ford)
15. That's a negative, Ghostrider, the pattern is full.
Top Gun
(control tower to Tom Cruise, when he requests a flyby)
16. You can't fight in here--this is the War Room.
Dr. Strangelove
(President Peter Sellers, during the crisis)
17. I've got the motive, which is money, and the body, which is dead.
In the Heat of the Night
(Rod Steiger to Sidney Poitier)
18. They say they're going to repeal Prohibition. What will you do then? / I think I'll have another drink.
The Untouchables
(reporter to Kevin Costner and Costner's reply, at the end)
19. All these things I can do, all these powers . . . and I couldn't even save him.
Superman
(Christopher Reeve to his mother, referring to his late father)
20. The next time I see Blue Duck, I'll kill him for you.
Lonesome Dove
(Robert Duvall to Chris Cooper)
21. He can't go down with three barrels on him. Not with three, he can't.
Jaws
(Robert Shaw to Roy Scheider and Richard Dreyfuss, on the ill-fated boat)
22. A wed wose. How womantic.
Blazing Saddles
(Madeline Kahn to Cleavon Little)
23. How will you die, Joan Wilder? Slow like a snail? Or fast, like a shooting star?
Romancing the Stone
(soldier to Kathleen Turner, before their fight)
24. Oh, my. I hope that wasn't a hostage.
Die Hard
(cop Paul Gleason to himself as he watches a body fall from the skyscraper)
25. I'll take these Huggies and whatever you got in the register.
Raising Arizona
(Nicholas Cage to convenience store clerk)
26. He saved my life, and yours, and Arliss's. You can't just kill him, like he was nothin'!
Old Yeller
(Tommy Kirk to his mother Dorothy Maguire)
27. Stay on or get off? STAY ON OR GET OFF?
Speed
(Sandra Bullock to Keanu Reeves, as they approach freeway exit ramp)
28. Snake Plissken? I heard you were dead.
Escape From New York
(cab driver Ernest Borgnine to Kurt Russell)
29. And for a brief moment, Gordo Cooper became the greatest pilot anyone had ever seen.
The Right Stuff
(narrator, at the end)
30. He kissed you? What happened next? / Then he had to go invade Libya.
The American President
(Annette Bening's sister to Bening, and reply)
31. Nobody ever won a war by dying for his country. You win a war by making the other poor dumb bastard die for
his
country.
Patton
(George C. Scott, during the opening speech)
32. I wish they wouldn't land those things here while we're playing golf.
M*A*S*H
(Elliott Gould to Donald Sutherland, referring to incoming chopper)
33. Oh Captain, my Captain.
Dead Poets Society
(Ethan Hawke and other students, to fired teacher Robin Williams)
34. I don't reckon I got no reason to kill nobody.
Sling Blade
(Billy Bob Thornton, in answer to reporter's question)
35. Goodnight, you princes of Maine, you knights of New England.
Cider House Rules
(Michael Caine, and later Tobey Maguire, to the orphans)
36. Sometimes nothin' can be a mighty cool hand.
Cool Hand Luke
(Paul Newman to the other poker players, after bluffing)
37. Today I saw a slave become more powerful than the Emperor of Rome
Gladiator
(Connie Nielsen, referring to Russell Crowe)
38. Talk to her, Dad. She's a doctor. / Of what? Her first name could be Doctor.
Sleepless in Seattle
(Tom Hanks' son, and Hanks' reply, while they're on hold)
39. Come on, Hobbs, knock the cover off the ball.
The Natural
(Coach Wilford Brimley to Robert Redford)
40. Way to go, Paula! Way to go.
An Officer and a Gentleman
(Lisa Blount to Debra Winger, at the end)
41. I see you've been missing a lot of work. / Well, I wouldn't say I've been
missing
it.
Office Space
(downsizing team to employee Ron Livingston, and reply)
42. I call that bold talk for a one-eyed fat man.
True Grit
(Robert Duvall to John Wayne, before the shootout)
43. Docta Jones, Docta Jones! No more parachutes!
Indiana Jones and the Temple of Doom
(Jonathan Ke Quan to Harrison Ford, in their pilotless plane)
44. Now you run on home to your mother, and tell her everything's all right. And there aren't any more guns in the valley.
Shane
(Alan Ladd to Brandon de Wilde, after the shootout)
45. I'm thinking your head would make a real good toilet brush.
Heaven's Prisoners
(Alec Baldwin to thug, in a New Orleans dive)
46. Left early. Please come with the money . . . or you keep the car. Love, Tommy.
The Thomas Crown Affair
(Steve McQueen's note to Faye Dunaway, at the end)
47. Active is pinging back something
really big
.
The Abyss
(sonar operator Chris Elliott, to commander)
48. And I will strike down upon thee with great vengeance and furious anger those who would attempt to poison and destroy my brothers.
Pulp Fiction
(Samuel L. Jackson to a doomed Frank Whaley)
49. I need a ride in your el trucko to the next towno.
The Mexican
(Brad Pitt, thumbing a ride from the locals)
50. This is Ripley, last survivor of the Nostromo, signing off.
Alien
(Sigourney Weaver, after a really hard day)