I've heard that the late great Elmore Leonard, who was at one point named Grand Master by the Mystery Writers of America and who won an Edgar for his novel
LaBrava
, once confessed in an interview that he'd never written a mystery in his life. He said he wrote crime stories, thrillers, suspense novels (and short stories)--but never what might be a called a "traditional" mystery.
Does it matter? Not to me. I love Leonard's books and stories--all of them, including his Westerns--and I couldn't care less how they're labeled. Besides, mysteries are not always whodunits. I maintain that mysteries are puzzles, in the sense that any good story is a puzzle--we want to see what happens, how things turn out--but the identity of the villain doesn't always have to be withheld from the reader until the end. Look at the Columbo series, where the bad guy was always identified in the first five minutes of the episode. It was still considered a mystery show, and one of the best.
This question of what a mystery is--or isn't--seems to come up a lot, in literary discussions. One way to address it is this: Next time you're in a bookstore, take a look at the "Mystery" section. Stacked upon those shelves are hundreds and even thousands of volumes containing murder, mayhem, and misbehavior on all levels. But all of them aren't traditional mysteries, and certainly all of them are not whodunits. I doubt that half of them are. What they are is crime fiction.
If you need further proof, consider the short-story submission guidelines for Alfred Hitchcock Mystery Magazine and Ellery Queen's Mystery Magazine. Both of them used to say (I'm paraphrasing, but this is the gist) that a story qualifies as a mystery if a crime is central, or essential, to the plot. In other words, if there's no crime, the storyline would fall apart. I also think I remember once reading in their guidelines that a story can be categorized as a mystery if it includes a crime, or even includes the hint of a crime.
In light of these observations, I dutifully went back and examined some of the stories I've had published over the past twenty years. As it turns out, only about twenty percent of my mystery stories have been whodunits. The rest were howdunits, or whydunits, or howcatchems. In those, there's no question about who killed whom. The question is, will the good guy(s) win out, and--if so--how?
Bottom line: Are whodunits good examples of mystery stories? Of course they are, and they'll always be around. But mysteries, whether long or short, don't have to be traditional. They just have to include criminal activity of some kind.
What, then, are some differences between so-called mysteries and so-called thrillers? Here are a few that come to mind:
1. In a traditional mystery, the protagonist (detective, usually) knows more than the reader. In a thriller, the reader knows more than the protagonist--or at least knows it sooner. I once heard it put another way: in a mystery the reader is a step behind the hero, and in a thriller the reader is a step ahead.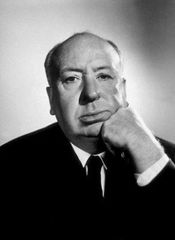 2. Traditional mysteries are often told in first person, which supports the "conceal the facts from the reader" approach. Thrillers are more likely to be told in third person, which can heighten suspense. It's "thrilling" for the reader to know, before the FBI agent does, that the terrorist is ready and waiting, just around the corner (or in the root cellar). Or, as Hictchcock is famous for saying, that "there's a bomb under the table."
3. In a thriller, the protagonist's world gradually grows larger, to include more and more tense situations. In a mystery, his world narrows, until only the solution remains.
4. In a traditional mystery, we wonder who committed the crime. In a thriller, we wonder if the hero will survive.
The big question is . . .
Which of the two do you prefer? The answer might not reveal only your reading tastes, but your writing preferences as well. It's been said that crime fiction writers who prefer using third person naturally tend to write more suspense/thriller stories, and that crime fiction writers who prefer first person lean more toward traditional mysteries. I admit that in my case that might be true. Some of my favorite stories of my own were written in first person, but I usually feel more comfortable writing in third--and I've written far more suspense stories than whodunits.
What are your thoughts? Which had you rather read? Which had you rather write? At a guess, what percentage of your own stories or novels are mysteries and what percentage are thrillers?
On the one hand, who cares, right? They're both fun to read, and to create. And we're all different. As Lt. Frank Bullitt said, "You work your side of the street, and I'll work mine."
On the other hand . . . tell me your secrets. End the suspense.
To do less would be a crime.