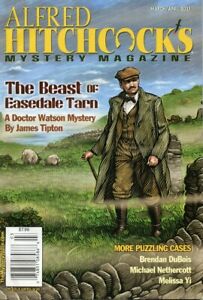 Yesterday the March/April issue of
Alfred Hitchcock Mystery Magazine
hit the newsstand, assuming such institutions still exist. I am delighted to be making my 33rd appearance in those distinguished pages. "Shanks' Locked Room" is the eleventh showing there by my grumpy crime writer, so he stars in one-third of my tales in that market.
You may notice the "locked room" in the title. It is a subgenre of the mystery story, of course, going all the way back to the very first: Edgar Allan Poe's "Murders in the Rue Morgue." I thought it might be fun to play around with the old gimmick and I wound up turning it inside out. The puzzle Shanks has to solve is not "how did the villain get into a room without a key?" but "why did the villain steal the key and not enter the room?"
I enjoy turning a cliche around. I had written what I thought would be a follow-up called "Shanks' Last Words," involving the famous dying-message clue, but it turned out that technology had gotten ahead of me and made my story outdated. Such is life.

One master of the upturned cliche was Jack Ritchie, a genius of the comic short story whom John Floyd and I have praised to the sky on this page. He wrote a book about Henry Turnbuckle, a Milwaukee police detective. Henry loved mystery fiction and was constantly being disappointed that reality cruelly ignored the cliches and motifs of the field.
For example, in one story two of the suspects are identical twins. Alas, in violation of every rule of mystery fiction that turns out to have nothing to do with the solution. In another tale Henry gathers all the suspects and dramatically reveals the killer - only to have the suspects point out a fatal flaw in his logic, which involved a fact no one had bothered to mention to him. Why is it in crime fiction the detective always gets all the necessary information? Doesn't happen in real life.
By coincidence I was reading a story today and gave up on it because it stuck to a very tired cliche: The villain was about to kill the hero but first gave him a detailed explanation of his plan, and damned near a blueprint of the house where he was being held.
This peculiar generosity on the part of some bad guys was brilliantly skewered in the movie Austin Powers.
So, which cliches of the field bug you the most?