Unfreakin' believable: This is South Dakota's latest ad about the drug wars:
Check out the posters here!
Argus Leader
Apparently, the idea is to say that meth addiction is everywhere, and people of all ages, etc., are on meth, and we need to fight it together. On the other hand - I know my first reaction was,
"What?"
If it works, great...
but is it just another version of the 2015 ad, "South Dakota, We're Better than Mars"?
Or the memorable South Dakota ad campaign that tried to cut down winter accidents with the following slogan:
And they
swore
that it was all about jerking the steering wheel, not, uh, something
else
.
Let's just say that I have ceased to believe that any Don Drapers are here in South Dakota. Granted, he was a true s.o.b., but the ads were good.
BTW, the State of South Dakota's total budget for anti-meth initiatives in 2020 includes $1 million for meth treatment services and more than $730,000 for school-based meth prevention programming. But this ad campaign "Meth: We're On It" has already cost $449,000, which could perhaps be used for more... treatment? Or something?
Meanwhile, a lot of the news over the last week or so has been a cold case from 1974. Ellabeth Lodermeier disappeared on March 6, 1974 from her Sioux Falls home, and hasn't been seen since. Seven months later, three of her credit cards were found at a railway station in Manitoba, Canada, but police said this was a red herring. Then in 1992, Lodermeier's purse and pocketbook were discovered near the Big Sioux River, but nothing came of that.
Ellabeth Lodermeier
Then, in December, 2018, the Argus Leader ran an investigation piece on her disappearance, and that led to some brand new leads. (
Read here
) So last week, a team of dogs was out searching. The police have called the results, "promising", but nothing more.
Meanwhile, before her disappearance, Lodermeier had filed for divorce from her husband, Gene. A lot of people - including her family - believe that he killed her. But he died back in 2013, in prison for grand theft. Nonetheless, he spent the rest of his life under suspicion, which he bitterly resented.
Personally, I'm in awe of cold case law enforcement. Starting all over again, to solve a crime, to find a person, etc. - takes a certain kind of dedication, and more puzzle-solving abilities than I have.
(That's part of the reason I love New Tricks so much - they solve cold cases - along with the fact that I think they're one of the greatest team shows I've ever seen. Each and every one of them contributes, and who finally figures it out changes with the episodes.)
One of the big cold cases that was solved in South Dakota was back in 2014, when South Dakota police finally found the bodies of two high school students, Pamela Jackson and Cheryl Miller, who had vanished on their way to a party in 1971. For over 30 years, people believed they had been kidnapped and murdered. One man was even indicted for the charge - a convicted rapist in prison - based on a supposed confession to another inmate. Later, it was proved that the "confession" had been faked. Nonetheless, his family had to put up with a lot of harassment from law enforcement - including digging up the family farm - and neighbors.
And then, in 2013, Brule Creek water levels dropped significantly, and there were the wheels of the girls' Studebaker. "was in third gear, with the keys in the ignition and the lights on. One tire was damaged. ... Miller's purse was found, [then AG] Jackley said. Inside it was her license, notes from classmates and photographs." (
Argus Leader
) It was simply a tragic accident.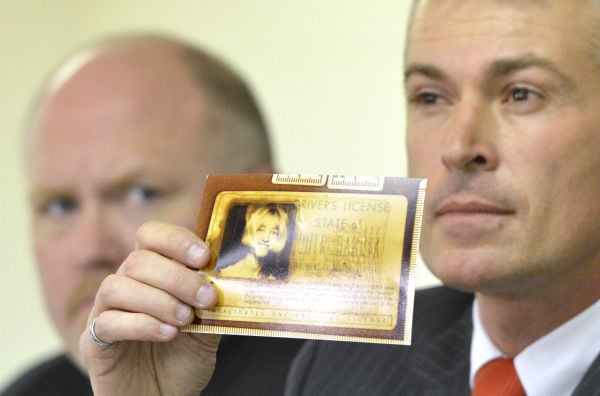 Which is easier to deal with? Tragic accident or horrendous crime? If you were family or friend of someone who'd gone missing, which would be easier to live with?
I was thinking about that, and decided that, with a crime, the question would always be, "why couldn't we have seen it coming?" or "why couldn't they have caught the criminal back then?" Or simply statement: "It isn't fair that they got away with it!"
And it isn't. Life isn't fair - and the fact that we actually recognize it is, to me, one of the major proofs of the existence of God - and that's why I'd plump for a tragic accident. The heart's still broken, but at least it's free of vengeance.