A couple of years ago, I discovered a good way to watch mysteries. It's actually a good way to watch many different genres--though most of my time's spent with mystery/crime/suspense. I'm talking about the wide availability now of TV series on Netflix and other outlets, via either snailmailed DVDs or streaming video. So far, I've found the best of these to be made-for-cable series (especially those created by HBO) but I've also seen some great productions from places like A&E and BBC. Two excellent series that I've watched recently--
House of Cards
and
Orange Is the New Black
--were produced by Netflix itself.
In the past I've posted often about favorites of mine: authors, novels, short stories, novellas, movies, sequels, remakes, directors, actors, villains, sidekicks, even soundtrack composers. Today I'm at it again. Here, in no particular order, are twenty TV series that I've watched and thoroughly enjoyed over the past few years. (Again, most are mystery/suspense offerings, but I've included a few comedies, fantasies, Westerns, etc.) I've not included those that I didn't like, or that for one reason or another I just stopped watching after the first episode or so, like Continuum and Vegas and Shameless. By the way--and as always--I'd be interested to hear your take on the following shows, and any recommendations you might have for series I have not yet discovered.

Here are my favorites:




The Newsroom (HBO) -- A behind-the-scenes look at modern-day newscasts, set in the offices of the fictional Atlantis Cable News channel. I think Jeff Daniels won an Emmy the other night for his portrayal of anchor Will McAvoy.
Orange is the New Black (Netflix) -- Based on the book by Piper Kerman, this is a comedy/drama about life in prison, seen from the viewpoint of a thirtyish woman arrested for transporting drugs. Surprisingly good.
Rome (HBO) -- Okay, I know this is way off the usual fare--but it's an outstanding series about Rome in the first century B.C., filmed mostly in Italy. It ran for only two seasons.
Dexter (Showtime) -- Proof that a serial killer can be the hero of a show. The secret? Unlike Hannibal Lecter, this dude hunts down criminals that evaded justice. Another quirk is that this weird vigilante's day job is blood-spatter analysis for the fictional Miami Metro PD.
The Wire (HBO) -- One of the best-made TV productions ever. Set in Baltimore, this series presents an truly authentic view of police work through the eyes of both cops and drug dealers. A little slow getting started, but it's well worth it.
Downton Abbey
(BBC) -- Who says I don't put some variety into these crazy lists of mine? This is a show I thought I would hate, and watched only because I knew my wife would love it. I found it fascinating. A chronicle of the lives of the Crawley family and their servants in early-twentieth-century England.
Weeds (Showtime) -- The polar opposite of Downton. This is a hilarious comedy/crime drame about the zany adventures of a suburban widow who decides to start growing and selling marijuana. Sort of a low-voltage version of Breaking Bad. I watched all eight seasons via Apple TV, almost back-to-back.
24 (Fox) -- How many ways can counter-terrorist agent Jack Bauer find to save the world (or at least save the nation)? Plenty of them. I especially liked the always fast-moving plots and the real-time narration technique.

Veep (HBO) -- Another comedy, this one with Julia Louis-Dreyfus as the U.S. Vice President. Better than you might think--and I'll watch anything anyway that features Seinfeld alumni.
House of Cards (Netflix) -- The betrayals, blackmailings, and backroom politics of U.S. Congressman Francis Underwood (Kevin Spacey). A unique feature: he sometimes "breaks the fourth wall" and speaks directly to the camera.
The Sopranos (HBO) -- Simply the best of the best. Gandolfini did one of the finest, most convincing protrayals I've ever seen by an actor. No description needed.
Boardwalk Empire
(HBO) -- Has there ever been a more unlikely leading man than Steve Buscemi? Doesn't matter--he's great. He plays politician/gangster Enoch (Nucky) Thompson in this authentic look at Atlantic City during the Prohibition era.
Game of Thrones (HBO) -- Seven families battle for control of the mythical continent of Westeros. Based on a series of fantasy novels by George R. R. Martin. A well-done production, and another that I didn't think I'd like before seeing it.
Copper
(BBC) -- A super-authentic historical mystery series. This is the story of an Irish cop in New York City's Five Points district in the 1860s. Dark but interesting.
Californication
(Showtime) -- The life and times of Hank Moody (David Duchovny), a novelist who suffers from writer's block and a Porscheload of other problems as well. There's something in this series to offend just about everybody, but (God help me) I like it.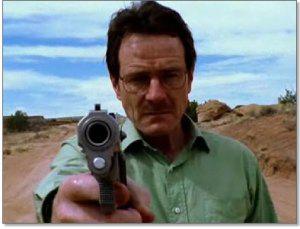 Breaking Bad
(AMC) -- The story of Walter White, a brilliant high-school chemistry teacher who's diagnosed with lung cancer and starts cooking and selling crystal meth to pay the bills. I'm only two episodes into this one, and it's already good.
Borgia
(HBO) -- This is almost as much a crime show as a historical drama. Set amid the nonstop corruption and violence of the Italian Renaissance, it deals with the infamous Borgia family and its struggle to gain and retain power. You'll never see another Pope like this one. (Not to be confused with the Showtime series
The Borgias
, which I've not yet seen.)
Fringe
(Fox) -- Sort of a J. J. Abrams version of
The X-Files
. A female FBI agent teams up with an institutionalized scientist to investigate unexplained phenomena. The title refers to their use of "fringe science" to solve mysteries involving a parallel universe.

Magic City (Starz) -- Another behind-the-scenes story, this one about the world of hotels and gangsters in Miami Beach in the late 1950s. Jeffrey Dean Morgan does a great job as Isaac (Ike) Evans, manager of the fictional Miramar Playa hotel.
In my opinion, the top five of these are HBO products: The Wire, The Sopranos, The Newsroom, Boardwalk Empire, and Rome. I absolutely loved those--although I should use present tense in the cases of The Newsroom and Boardwalk, where there are apparently (and hopefully) more seasons upcoming.
Other series that I enjoyed a great deal over the years, and that I faithfully watched every week on TV rather than later on DVD, were
Hill Street Blues
,
ER
, and
Lost
. And six that I somehow never got around to seeing regularly but that I now wish I had, were
Heroes
,
Six Feet Under
,
The West Wing
,
Mad Men
,
30 Rock
, and
Castle
. So many shows, so little time. For what it's worth, I still think the alltime best-written comedy series were
Cheers
,
M*A*S*H
, and
Frasier
.
Anyhow, there you have it. I think I've now managed to list my favorites in every visual and printed medium except maybe video games.
Anybody remember Pac-Man?