Back when Leigh, Rob, Janice, and I were writing weekly columns for the
Criminal Brief
blog, I did a post about mystery writer Steve Hamilton (
here's a

link
). I had met Steve at a writers' conference a couple of years earlier and shortly afterward became hooked on his series about reluctant private investigator Alex McKnight.
That blog piece was eight years ago. At that time Steve had written seven McKnights and one standalone novel,
Night Work
. He has since produced three more McKnight novels, a second standalone called
The Lock Artist
, and the first two books in a series about ex-con Nick Mason.
Backstory
One reason I was so intrigued by Steve Hamilton when I met him is that he was (at that time) an employee of IBM--and so was I, for thirty years. I'm not saying there aren't a lot of IBM folks running around out there, but there aren't a lot of them who are also mystery writers. Anyhow, Steve showed several of us at the conference a short film that had just been adapted from one of his stories, and I've been a devoted fan ever since. I've now read all ten of the McKnight novels--which are set, by the way, in the real town of Paradise, in Michigan's Upper Peninsula--and also both of his standalone books. And a few weeks ago I finished the second novel in his new series. The main thing to report, about that, is that Steve Hamilton's fiction is every bit as strong now as it was in his very first book (
A Cold Day in Paradise
, which won the Edgar Award). Keeping up that kind of quality, as we all know, is not always the case. Most authors--especially crime novelists, for some reason--can't continue to entertain/captivate their audience, or at least not at the same level, after a dozen books or so.
Another thing about Steve: he's a genuinely nice guy, friendly and down-to-earth and helpful to other writers. He's certainly been kind to me.
The new series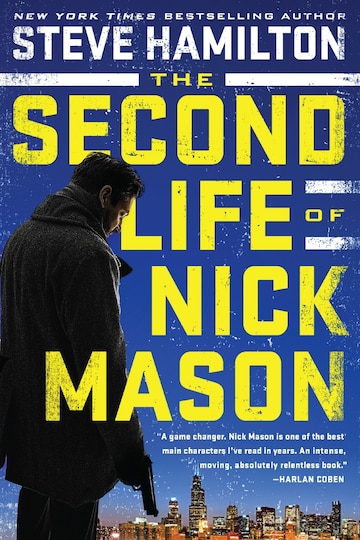 I've already mentioned the fact that I liked all the McKnight installments and the two non-series books,
Night Work
and
The Lock Artist
(the latter won Steve yet another Edgar). But I'm really excited about his latest two novels,
The Second Life of Nick Mason
and
Exit Strategy
. Both are set in Chicago, and feature the most interesting protagonist I've seen in a long time.
Nick Mason (no, he's not a brickmason, and no relation to Perry) is a career criminal. An ex-convict, in fact, who gets out of prison on a fluke and finds himself in a position almost bad as the one he left. On the one hand, he's now a free man, but on the other, he belongs to the guy who arranged his release. "Mobility," in his benefactor's own words, "is not freedom." Nick is still in a prison of sorts, and lives at the beck and call of someone who, if not strictly and promptly obeyed, will kill not only Nick but his wife and daughter as well.
This "second life" that Nick Mason has been granted (seldom has there been a more appropriate title for a novel) is what drives this series. The first book introduces the character and his dilemma, and the next one--
Exit Strategy
--continues the nightmare but puts forth the slim hope that Nick can somehow get out of the impossible situation Fate has handed him. Both novels feature fascinating characters, pulse-pounding action, and plenty of plot twists.

In the words of others . . .
Here are some excerpts from recent reviews of
The Second Life of Nick Mason
:
"A fine premise, a vibrant setting, a charismatic anti-hero . . . It's a tight, gripping book about a man hellbent on reinventing himself against long odds."--
The New York Times
"Whatever he writes, I'll read. Steve Hamilton's that good."--Lee Child
"Steve Hamilton amazes me. Every time I think he's going to zig, he zags."--Michael Connelly
"The novel more than lives up to its hype."--
The Chicago Tribune
"Trust Stephen King. This book is the real deal."--Stephen King
A killer like Keller
Maybe the most surprising thing about this series is that Steve Hamilton--like Lawrence Block, in his Keller novels--somehow makes the reader care about an extremely unlikely hero. Nick Mason has a good heart, but he's still a hired assassin. And here we are, cheering him on. I plan to do the same with future installments in this series.
Breaking news: The first of the Nick Mason novels will be a major movie soon, and a recent podcast featuring an interview with Steve can be found at
Wrong Place, Right Crime
. (Click on July 3: Steve Hamilton. Hint, hint: I'll be featured there on July 17, so tune in for that one too.)
That's my pitch for today. Again, the novels are
The Second Life of Nick Mason
and
Exit Strategy
. I hope you'll read them, and the Alex McKnight series as well. In other words, spend a few cold days in Paradise.
And to Steve, if you read this … keep up the good work.