Joyous felicitations of the season. I wish all of you a happy Edgar Allan Poe's birthday! He entered this world of wonders on January 19, 1809. I trust that in his honor today you will all do something appropriately Poe-ish, such as:
* Marry your thirteen-year-old cousin.
* Become a champion broad-jumper.
* Get court-martialed out of West Point.
* Inspire Robert Louis Stevenson to write Treasure Island, thereby becoming godfather to what everyone imagines is the way pirates spoke.

* Apply for a position as a customs official and then fail to show up for the interview.
* Write the only poem to inspire the name of a professional football team.
* Join the army and become a sergeant major, the highest rank available to a non-commissioned officer.
* Be the author of 425 movies, according to IMDB.
* Drop out of college due to insufficient funds. (This may be the easiest item on the list for modern Americans.)
* Get fired from an editing job for drunkenness.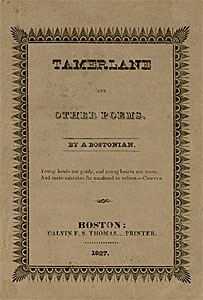 * Write an
essay
that seems to describe the Big Bang Theory, eighty years before it was formally explained.
* Die at age 40 after being found wandering around Baltimore in someone else's clothes.
* Be slandered as a madman in your obituary by a rival who also became your literary executor.
Or if all that seem like too much hassle, how about this easy one?
* Invent a genre of literature that is still going strong 170 years after your death, and have its major award named in your honor. (And congratulations to everyone who was nominated for an Edgar today!)

Happy 213th, Eddy. You don't look a day over 200.